Can you believe that I tasted the Biscoff spread the first time this week? The Biscoff spread is made from the Belgian cookies, but I haven't seen it in Sweden at all. The Biscoff cookies I am very familiar with – mainly as an in-flight snack. So finally on my trip back home to the US I was able to get some of the Biscoff spread into my hands and into my belly. The spread is probably at its best when eaten with tart green apples. I turned the tart apples and Biscoff spread into easy Biscoff Apple Turnovers, and they are the perfect picnic snack or breakfast treat for the rest of the summer and fall, and would make a great treat even for after school snack once kids are back to school. This recipe is also so easy and doesn't require many ingredients, making it an easy bake even on vacation homes. And all travelers will be reminded of the flights to fun places when tasting the Biscoff spread – I wonder if that's why it is so popular, everyone associates the taste to trips they have taken?
Biscoff Apple Turnovers
INGREDIENTS:
1 package of ready made Puff Pastry dough 1 apple 1/2 cup Biscoff spread 1 egg Sugar & cinnamon
INSTRUCTIONS:
Heat the oven to 400F/200C. Take the dough out of the freezer and let it thaw to room temperature. Cut it to squares. Chop the apple to small cubes. Add about 2 teaspoons of Biscoff spread into a pastry square and add 3-4 small cubes of apple and close the square diagonally forming a triangle. Brush a little bit of egg onto the pastries, sprinkle sugar and cinnamon, and put to the oven for about 20 minutes until golden brown.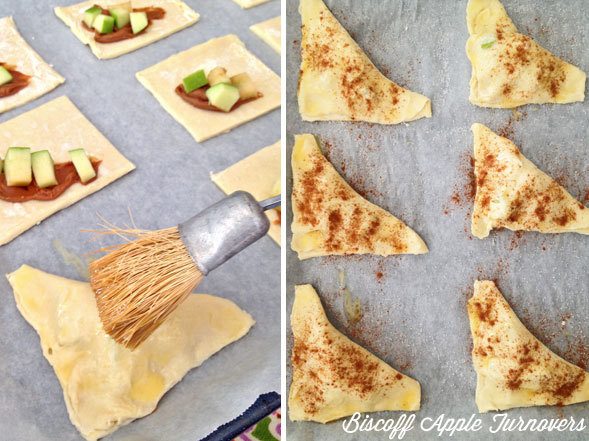 Ps. You might also like my
Toblerone Danish recipe
, a lot like this one!
Biscoff Spread
is a sweet, creamy spread made with Biscoff Cookies. Try this delicious European alternative to peanut butter or chocolate spread. This is a sponsored conversation written by me on behalf of Biscoff. The opinions and text are all mine.
This is a sponsored conversation written by me on behalf of Biscoff.  The opinions and text are all mine.