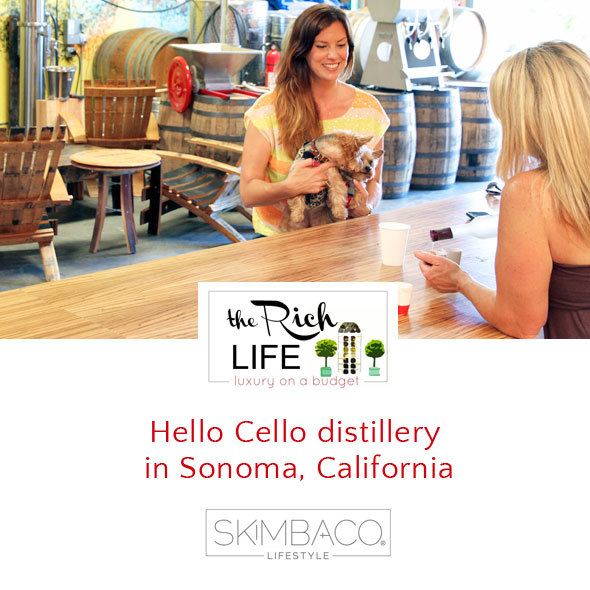 Last week, I had the pleasure of experiencing one of
The Lodge at Sonoma Renaissance Resort and Spa's
fantastic getaway packages, the "Sommelier Spirits Selections" first hand. The package includes a one-night stay in a Cottage Room at The Lodge at Sonoma, breakfast for two at their Carneros Bistro and Wine Bar, and a spirits tasting at Bean and Bottle, all of which I'll be telling you about soon in future Skimbaco Lifestyle articles.
The "Sommelier Spirits Selections" also includes a rare private tour of Sonoma's first and only post-Prohibition distillery,
Hello Cello
. Husband and wife team, Amy and Fred Groth are the proprietors and distillers. It's located just a short drive from the resort. The Lodge at Sonoma is pet friendly. Daisy and Coco, my two Yorkshire Terriers, were welcome at Hello Cello as well!
Hello Cello offers a wide range of locally and seasonally produced spirits including limoncello, figcello, whiskey, award-winning Hookers House Bourbon and their newest additions, Sugar Daddy Rums.
The tour is a unique opportunity to learn how their handcrafted spirits are made, check out their funky, cool warehouse, see the incredible distill, and simply enjoy the company of the Groths who are charming, friendly and fascinating. It's a wine country experience that goes far beyond wine tasting!
Hello Cello's Limoncello piqued my interest with it's bright sunny color and inciting citrus scent. Amy Groth gave me all the details about how it's made and the good things it's made with. First, they select organic lemons that are sourced locally. Before they begin making a batch of this liquid sunshine, they invite all their friends over for a lemon peeling party. Once the peeling is complete, the peels are then soaked in organic local grappa and the leftover fruit is donated.
They use agave nectar rather than white sugar and the water they use is cleaned and filtered using reverse osmosis instead of a chemical process. Free of artificial colors, flavors, preservatives, and chemicals, I feel good about enjoying a delicious, flavorful and satisfying limoncello aperitif straight-up right out of the freezer or in a cocktail.
Visit the Hello Cello website to find out where to purchase their distilled spirits. And for more information about the "Sommelier Spirits Selections" and other getaway experiences visit The Lodge at Sonoma's
deals and promotions page
. And be sure to stay tuned for more about my Sonoma getaway to The Lodge at Sonoma and the "Sommelier Spirits Selections"!
I have a passion for fashion! If you do too, consider subscribing to once a week emailed
Skimbaco Fashion
feed and never miss my fashion post.
Disclaimer: I was a media guest of The Lodge at Sonoma Renaissance Resort and Spa and Hello Cello and and my visit was comped. I was also given a complimentary bottle of Hello Cello Limoncello. My opinions are my own, as always.