Our family is known for sometimes finding the less-than-traditional family holiday destinations – or at least the more unusual agendas for our trips. We've recently returned from our latest adventure in Sri Lanka, and prior the trip we've had a few comments about the safely of the country (recent civil war and typhoons in the area) but I am happy to report that Sri Lanka was very peaceful and friendly, the weather was great (on the side where there was no monsoon) and the overall experience was just amazing!
This two-week holiday was split into two parts – a nine-day tour around the country and then some relaxing days on the beach to finish off the holiday in a high note – and it was just the perfect balance! We didn't go with a pre-arrange tour, but rather planned a customized tour and hired a local company to guide our family around for children cannot always keep up with the tour groups and their schedules. Despite having a driver with us we ended up also trying all local transportation modes  from boat and train to tuk-tuk – something different and fun especially for kids. All-in-all that proved to be also a cheaper solution – on top of being tailored to suit our needs.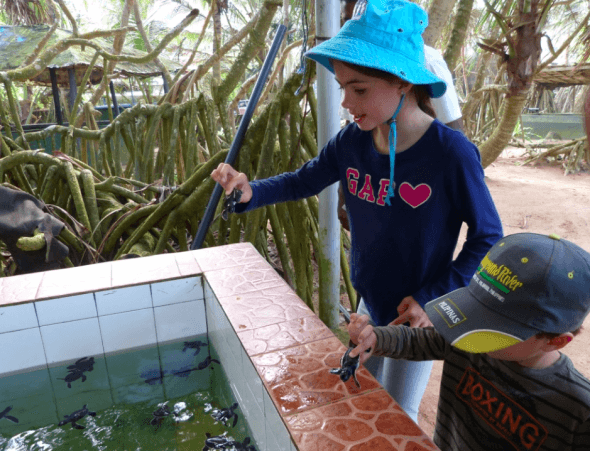 The climate in Sri Lanka is tropical and warm all year round, however, during the monsoon it rains a lot – and apparently you need to pick the right coast to avoid the monsoon and heavy rains. We experienced a pretty spectacular storm and quick flooding of the roads on our way back to the airport the last day. We also spent several days in the mountains where the climate is much cooler than by the beach, so pack for different weathers.
The first two days of the trip we spent around the capital Colombo and the south coast, where we the most memorable visits were to a turtle sanctuary and a boat trip in the mangrove lakes. One can tell that tourism is getting more professional here as one of the stops was to a "fish massage farm" where little fish would nibble your feet and even a little crocodile was available for petting there: fun and unusual experienced that we certainly did enjoy trying.
We got to experience many of the island's traditional trades – such as this manual cinnamon extraction demonstration together with making rope from coconut hair and roofing using braided coconut leaves – so simple, yet so effective. We also visited local furniture makers where beautiful pieces were hand carved, as well as a batik factory: we were amazed to see how colors were made and then added one color a day. It was such a labor-intensive process and requires a lot of skills and concentration.
The mountain areas are mainly used for growing tea, which makes the landscape beautiful and interesting. After visiting a tea factory we got to appreciate how different tea varieties are produced and how precise and detailed the whole process is. In the lowlands the scenery was dominated by rice paddies with fresh fruit growing all over the place from king coconuts to medical herbs, spices and coffee – we were just amazed how self-sufficient one could be in Sri Lanka with a piece of land – especially in comparison to my home country, Finland, where one could grow potatoes, apples and few more rather ordinary species.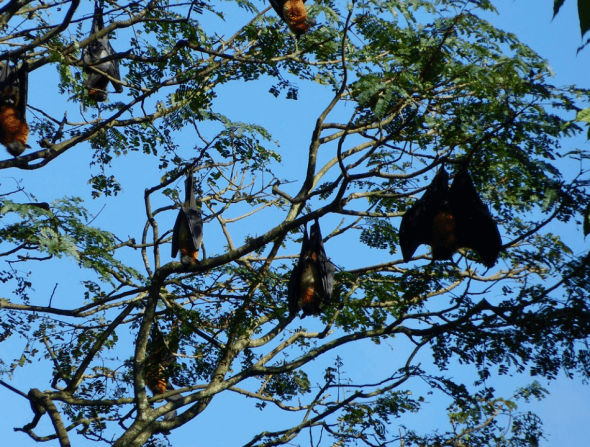 We had planned the tour schedule with children in mind: some educative, yet fun places to visit, lots of nature in the form of hikes, elephant and bird safaris to national parks, a visit of the elephant orphans sanctuary – not forgetting actually riding the elephants also. One of the must-visit places we'd recommend is Kandy Botanical garden with blooming flowers, interesting plants and trees – and the highlight of being giant bats which kept glided from tree to tree above us in the daytime!
Culture was the third goal for our trip and Sri Lanka is great for that with several Unesco World Heritage sites near each other. We also did several visits on the way to other hindu and buddhist temples, explored the bazaar in Nuwara Eliya, went to a traditional dance show and tried all sorts of street food and bakery goods. And on top of everything else we managed to bump into a local wedding while having a snack break in a countryside sports club!
When you add lovely hotels to the mix and bath-warm, mild sea in the end, you can imagine why this holiday was free of stress and full of fun and adventurous things for everyone. Sri Lanka is an extremely clean and friendly country. It's also very cheap and hasn't yet been hit by mass tourism, so beggars and large-scale tourist traps are missing from the scene.
If you are used to the life in the fast lane, get ready to embrace the opposite: the country opened last year it's first highway, but most roads will be very slow (30-50kph/20-30 mph) with frequent stops for cows and other obstacles. So take your time to admire the nature and history around you and de-stress your mind. All in all, I would definitely recommend visiting Sri Lanka – it's an amazing destination full of adventures and perfect to visit solo or with a family!
Post by Reeta Laaksonen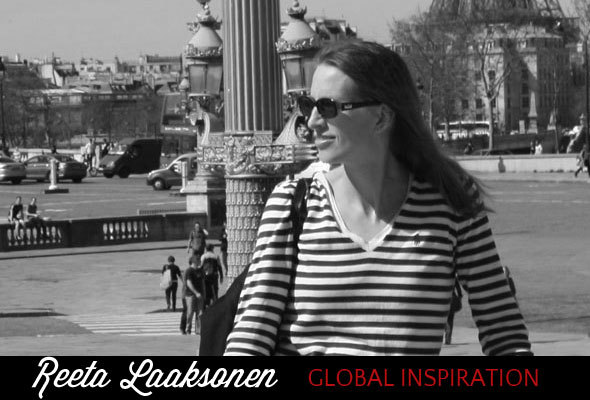 "I love luxury travel and bringing global inspirations to our daily life. As a mother of three, I am always in the look for best places to visit with the kids. If you like the global lifestyle as much as I do,
subscribe to Skimbaco Lifestyle weekly feed
." Reeta Laaksonen of
House of Anais
.
Let's connect!
Visit reeta www.houseofanais.com's profile on Pinterest.