Easy and inexpensive wood paneling product!
I love wood paneling! And I am not talking about lodge style here, I am talking about sleek modern wood paneling, on walls and also on the ceilings. If you like the wood paneling idea, but not the high price tag and amount of work that comes with it, there is a trending wall covering product out you will love:
Stikwood
.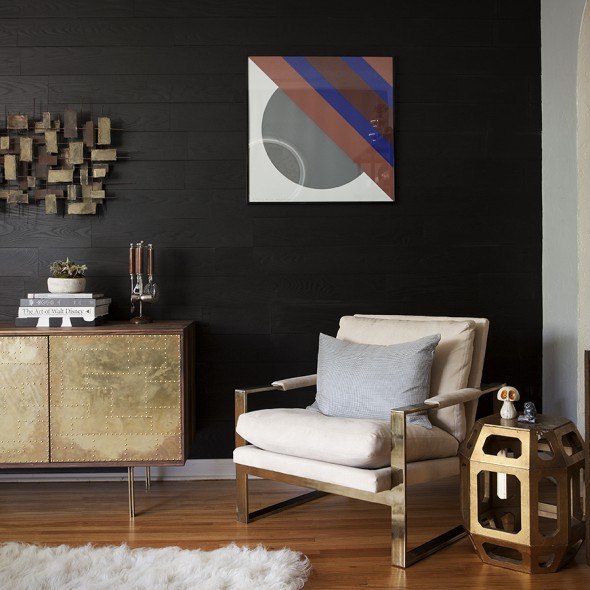 Stikwood is an easy new approach to modern wood wall decor, it is the world's first Peel & Stick solid wood planking. Stikwood makes it easy to transform any room with real wood quickly and cost-effectively. I personally like the contemporary looks, but Stikwood also comes in a variety of more rustic looks. Stikwood is also economical, environmentally responsible, and offers so many creative design solutions. I have been seeing this product on HGTV, sold at West Elm and many other places, and I really would like to do our living room ceiling with it.
Designer and former super model
Anne-Marie Barton
has used Stikwood in several recent projects, and loves its ease of use and variety of finishes. For a bedroom located in a new home on a 160-acre ranch in Utah, she used white reclaimed Stikwood:
I used Stikwood in a vertical format which made the room feel taller and gave it a traditional look. It has a French Country feel; the whitewashed reclaimed wood walls brighten the room. We wanted to create a 'white out' in order to contrast with the rest of the home's richer tones. The Stikwood texture brings credibility into the space; there's a richness to the authentic wood.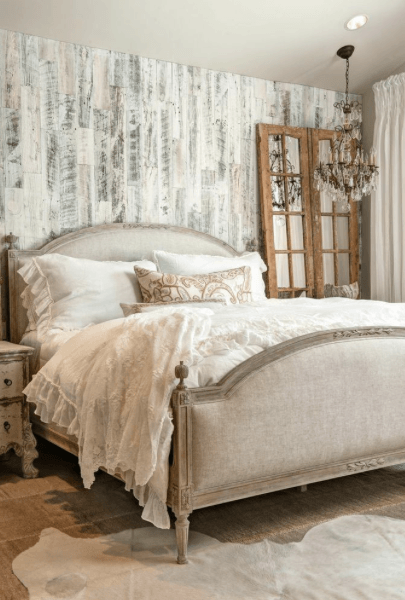 In the family room of the same home, she used light colored reclaimed Stikwood to add light and texture:
Above all, I love texture and credibility. I spend most of my time begging my clients to integrate 'authenticity' to their spaces. This line of reclaimed wood makes it easy to bring that authenticity. Stikwood does more for a room than artwork or mirrors. If I had to choose one additional element for a space, it would be to add richness, integrity, texture and body to the walls.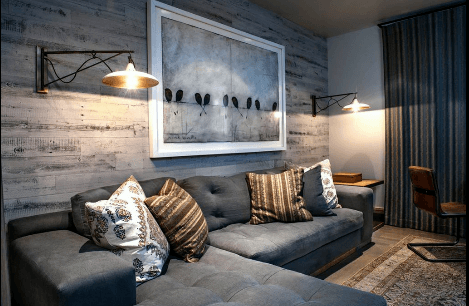 On a project in Salt Lake City, she used Stikwood to give a cottage called Sugar Bungalow a cool relaxed look. It's the home for young academic musicians, according to Anne-Marie.
They wanted a very relaxed space, Bohemian and fresh. With sanded raw hardwood floors and white reclaimed Stikwood, she could add style and character to the eclectic fine arts décor.
Also Kyle Schuneman, Interior designer in LA, likes using Stikwood. He used the "charcoal" finish inspired by ancient Japanese style called "sho-sugi-ban" of charring wood of blackened color.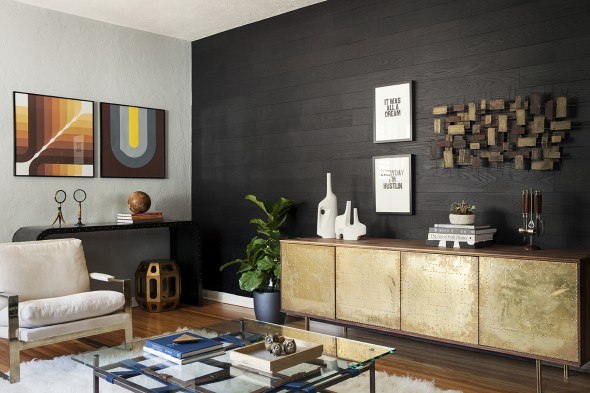 I love the dark look of this wood paneling.
Stikwood is a relatively easy and relatively inexpensive way to dramatically improve almost any room in your home. Here are instructions
how to install Stikwood paneling,
and it really doesn't look that hard. What do you think of this new wood paneling trend? I would say it's a yes for me!
Post by Katja Presnal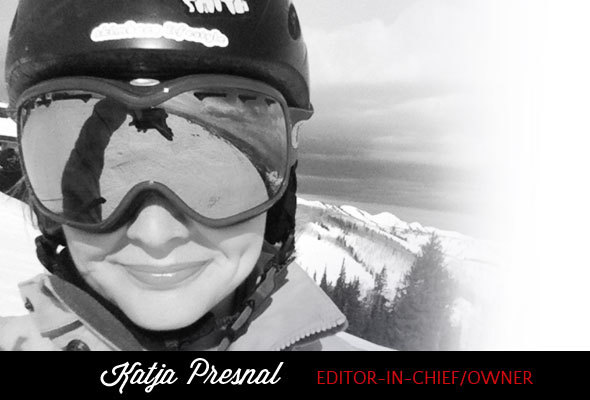 "My mission is to inspire you to live life to the fullest and find your own "skimbaco," how you enjoy life where ever you are in the moment. For ideas for travel, home, food and fashion,
subscribe to weekly Skimbaco Lifestyle
feed on Mondays and
I hope you get my newsletter
that I send out sometimes on Fridays."
Katja Presnal
, editor-in-chief and the owner of Skimbaco Lifestyle.
Visit Skimbaco Lifestyle (Skimbacolifestyle.com)'s profile on Pinterest.