Packing for a trip, whether work or leisure, can be an overwhelming task for many, and act as an obstacle that hangs over one's head before departing. From having the right bag and suitcases to packing the right clothing, there is a lot of thought that goes into this highly unanticipated chore. While packing for a trip to the Cote d'Azur, I was reminded how I, like many, do not enjoy the task of packing. I searched for the appropriate size suitcase, located outfits, and also needed an appropriate carry-on piece to hold all the extras such as electronics and valuables. Throughout my packing experience, I was exposed to a new online boutique that offers all things travel and luggage,
PORTMANTOS.com
The concept of PORTMANTOS is quite unique in the online world, so the site instantly caught my attention as I was placing piles of clothing into my suitcase. The experience is designed to mirror the refinement experienced by discerning consumers who frequent the world's most lavish boutiques. As a result, for an online retailer, PORTMANTOS offers a truly personalized shopping experience with hand-selected products, exclusive benefits, concierge services, VIP programming, and white-glove delivery.
Founder, Moses Berger, answered a few questions about his concept and the unique experience his boutique offers clients:
What inspired the launch of PORTMANTOS?
PORTMANTOS was inspired by the refinement experienced when walking into a high-end boutique; an experience not easily translated in the online shopping space. Not only did I recognize a shift in the e-commerce market, favoring experiential shopping, but I also realized there was not a single online destination where customers could shop for all of their luxury luggage and travel wares. It was then that I conceived of PORTMANTOS.
What Does PORTMANTOS offer that customers cannot get elsewhere?
An exceptional assortment of merchandise, superlative service and the unparalleled ability to engage our customers in a manner that encourages individuality while still keeping the shopper on trend.
Is PORTMANTOS just about buying luggage?
Not at all. At PORTMANTOS, we believe that the shopping experience is not just about the destination, but also the journey. To that effect, we have designed PORTMANTOS to be an enriched and truly personalized shopping experience. In addition to a variety of luggage and travel accessories, we provide customers access to exclusive benefits including concierge services, a personal travel advisory, VIP programming, white-glove delivery and more.
What is your target consumer?
PORTMANTOS speaks to the luxury traveler; from families to corporate executives, who share a common interest and goal: to enhance their journey.
How do you decide what brands to carry?
We carry only the finest brands, of the highest quality. Every single product that we carry has been hand-selected, and deemed suitable for even the most discerning traveler. Our brands range from modern classics to emerging brands discovered during my personal travels. Hand-craftsmanship
and meticulous design are paramount.
Describe the PORTMANTOS experience in one word?
Captivating.
With so many options to choose from, how does a PORTMANTOS customer pick the right one?
PORTMANTOS was designed specifically to guide the customer during the purchasing process. Each brand has a landing page with a video unique to their own brand identity, providing the shopper with a sense of walking into that brand's flagship store. Customers are educated about the brand, as well as their products. We also provide recommendations in our "Travel Forecast" section of the site, as well as easy navigation and filtering options to make the process as seamless as possible.
Explain the perks of the PORTMANTOS VIP Program?
The PORTMANTOS VIP Program provides customers with advantages such as luxe complimentary gifts with purchase, travel trends, exclusive previews of new products and collections, and upgraded shipping, free of charge.
Tell us about the PORTMANTOS "Talk To A Jetsetter" feature?
"Talk to a Jetsetter" provides live support to help the customer choose the right products and accessories to enrich their travel experience. We constantly consult, converse and collaborate with travel experts and stylists to handpick a collection of products for each of the four luggage archetypes (Business Basics, Iconics, Modern Metro, Carry-It-Alls). Our writers are true travel gurus, who provide insight based on personal experiences and a keen observation of the landscape. At the core, this is what makes us unique.
I always travel with a carry-on that is versatile; one that can hold clothes to utilize immediately upon arrival as well as valuables and electronics. I clicked onto PORTMANTOS, and found a great
Jack Spade duffle
that would fit the bill perfectly. I decided it was the perfect opportunity to grab a great travel bag and experience the PORTMANTOS service firsthand.
While I do not live within the range for same-day white glove delivery, the bag arrived nicely on my doorstep the next day. I was thrilled to see the box at the doorsteps, opened the bag, and began filling with all my carry-on "essentials." (Check out my
packing tips for Nice
). The package included a note that really embodies the PORTMANTOS philosophy and mission. I stuffed the bag with, perhaps, slightly more than the "essentials", but last but not least, I tucked my passport into the pocket and was out the door!
The next time I need a new piece of luggage or any travel accessory, I will be sure to point my browser towards PORTMANTOS. The array of styles both modern and classic ensure something perfect for your specific travel occasion.
Post by Wes Holland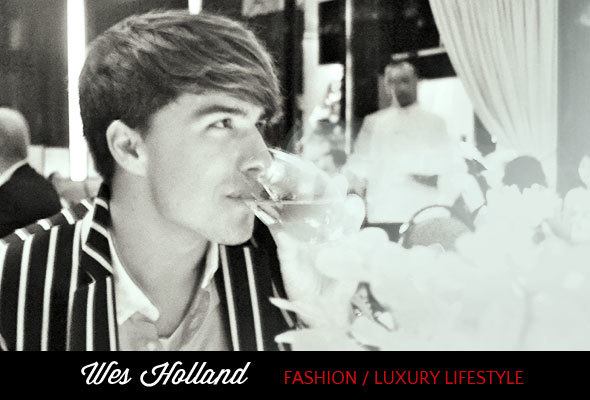 "I dream of being a business leader in the fashion world. Whether that be creating and running my own luxury retail consulting firm, or heading a department for a renowned fashion house, I want to mix the intellectually stimulating side of business with the creativity that the fashion world offers. Make sure to subscribe to
Skimbaco Fashion weekly feed
."
Wes Holland
of
Life Through Preppy Glasses
.
Let's connect!
Follow Skimbaco Lifestyle (Skimbacolifestyle.com)'s board Monsieur Curations for MEN on Pinterest.