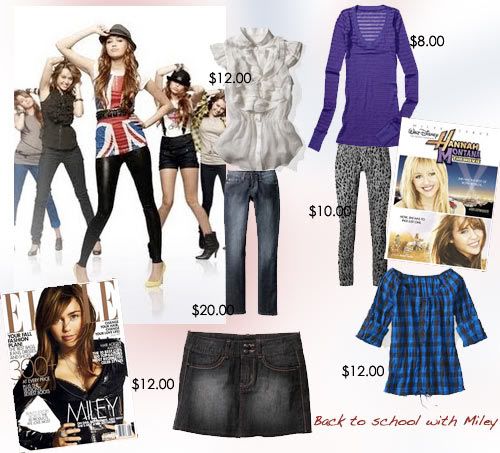 Back to school with Miley! Lots of Miley news… Miley Cyrus & Max Azria Fashions at Walmarts, Miley's tour, Miley as ELLE cover girl & Hannah Montana on DVD coming out next week. Miley Cyrus is all over! This blog post is dedicated to my daughters Isabella and Gabriella, who are Miley Cyrus and Hannah Montana fans, just like many other little girls. In fact we already went to our local Walmart to pick a few items from Miley & Max Azria's new fashion line. The line reminds me of things I wore when I was a fourth grader, just like Isabella this fall. Plaid shirts, tights, animal prints, the fake-tie tees.. it's all there, the best of 80's. All you need to add are bangles and big hair. The
Hannah Montana movie
will be out on August 18th, and we will probably get it, even though we've already seen it. So a special treat for Isabella and Gaby, and hopefully your little girls… An interview with Miley Cyrus!!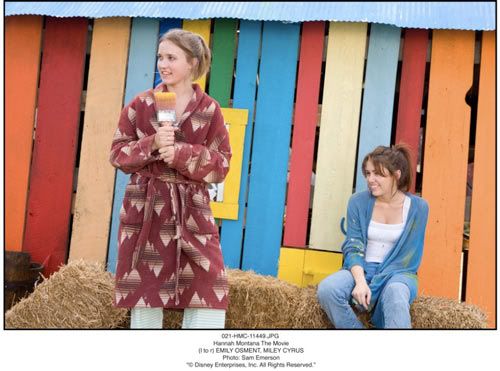 Hi Miley! What makes a good friend?
Miley:
Friendship is all about trust. If you can trust someone completely, then that is a good friend. That's someone you should cherish.
And what makes a best friend? Miley:
A best friend is when the friendship goes to the next level – it's like when you feel more like family with someone rather than just friends. Emily Osment and me have that kind of relationship.
Do you consider Emily part of your family? Miley:
We're like sisters and she is my best friend. We will fight like sisters and we drive each other absolutely crazy half the time, but that's the beauty of it all. She's one of the few people I feel completely comfortable with and that's important for a friendship. That means a lot to me because my family means a lot to me.
You mention in your biography that your relationship with Emily was a little shaky when you first started on Hannah Montana… Can you tell us a bit about it? Miley:
Well, it's all written in the book, but it's true. We didn't see eye to eye on a few things when I started work on the show.
How did you get over it? Miley:
We just grew together as we continued to work together. Like I said earlier, I think we're more like sisters than friends now. Now, we can be completely honest with each other. We can fight and we can be silly – but we will always love each other.
Can you be moody with each other too? Miley:
Definitely! We can argue and be moody with each other, but we know everything will be OK. We'll get over it because we love each other.
Do you find it easy to tell if a friend is being genuine or not? Miley:
I think it's harder to find people that are real in Hollywood. There's this amazing quote by Andy Warhol where he talks about the way that everything is fake and plastic in Hollywood. I think it's an awesome quote – and it's pretty true.
Do you have many people you can trust in Hollywood? Miley:
It's hard, but it's getting better because I'm meeting more people I can trust all the time. The good thing is that I have people around me – like Emily – who I know I can depend upon and love unconditionally.
So what makes you smile when you're feeling down? Miley:
A lot of things bring a smile to my face. Music, movies, friends, family… Everything. I'm very lucky. I wouldn't change a thing for the world.