1. Frame pictures from Calendars
Get a nice wall calendar and you will instantly have 12 or 18 choices for framed art – that are all of the same style. Whether you are looking for art prints of your favorite artists, funny cartoons, or scenic photos, you can find it from your bookstore's calendar section. My favorites are the
Cavallini calendars
; great selection of vintage style maps, botanical or animal pictures or scenic photos from around the world.
2. Mirrors
There are so many ways that you can decorate with mirrors without spending a lot of money. Buy different style and different shaped mirrors from flea markets and garage sales and group them together for wall art. Or add mirrors for an old window frame and hang it on the wall.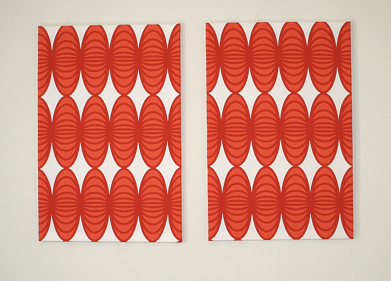 Picture: Sew, mama, sew!
3. Fabric – Stretched or Not
Fabric is great way to get instant art on your walls. All fabrics are not inexpensive, but with more expensive designer fabrics, a little can go far. The most art-like option is to stretch the fabric on a wooden frame, see instructions at
Sew, mama, sew!
. If you have a larger piece of fabric, you can even get away by not even framing it. You can use a thin curtain rod and hang the fabric from the rod by curtain clips.