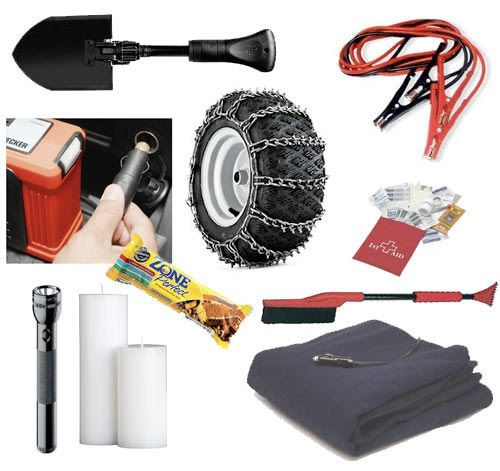 Be prepared for winter driving, and you can save yourself a lot of time, money and energy. Not to even mention – the emergency kit in your car may save someone's life. WINTER DRIVING EMERGENCY KIT
Jumper Cables
Always good to have! Another option is 12-Volt battery starter that charges & starts vehicle in minutes without jumper cables.
Snow chains
I have carved my Volvo off snow, and got it stuck in snow enough many times not to go on mountains without snow chains anymore. Remember that they don't replace winter/ all weather tires and you can not drive with them for extended periods and fast. Other option is stocking up with
sand or cat litter
to get some traction under your tires.
Small Shovel
Especially if you live close to Great Lakes or on the mountains you know that when it snows, it snows. You may need a snow shovel just trying to get out of your parking lot after a work day.
Ice scraper
Don't keep this hidden somewhere in the trunk – keep it handy, you will need it.
First Aid Kit & Medicine
If you need any medicine on a daily basis, keep an emergency supply with you. First aid kit is a must have for every car, any time.
Flashlight and extra Batteries for it
We prefer Maglights, they are high quality and will last a lifetime.
Matches and Candles
If you were a reader when we lived in Colorado, you know that I have melted snow for drinking water…
Bottled Water
(So you don't have to melt snow. )
Winter Clothing
Don't drive to even grocery store without gloves, winter boots, and a warm jacket. Always carry winter clothing in your car when driving during winter.
Blanket or Two
If you really want to get techie, get a blanket with 12-Volt heated electronic blanket that you can plug into your cigarette-lighter.
Dry Food Such as Nutrition Bars
Nutrition bars are great to have handy, and nuts and trail mixes second best.
Holidays are approaching – and so are the winter road trips. If you live in a cold weather state, now it is time to get your car ready for winter – or gift these items to someone you care. Don't let anything get into your way of living life to the fullest. Be prepared has been my motto since the girl scout days.