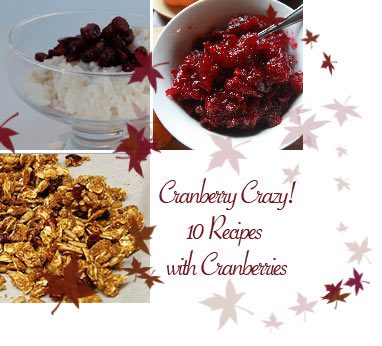 Fresh cranberries typically arrive in grocery stores at the end of October and have a prominent place on Thanksgiving and holiday dinner tables. The cranberry, along with the blueberry and Concord grape, is one of North America's three native fruits grown commercially. According to the Cape Cod Cranberry Grower's Association, the name "cranberry" derives from the Pilgrim name for the fruit, "craneberry", so called because the small, pink blossoms that appear in the spring resemble the head and bill of a Sandhill crane. Cranberries have a number of health properties: they contain bacteria-blocking compounds that are believed to help prevent urinary tract infections, stomach ulcers and certain types of gum disease. Cranberries are tart and relatively low in calories so if you're planning on adding them to your holiday table, there's a chance that they'll be the most virtuous option at dinner. A lot of people associate cranberry sauce with Thanksgiving – turkey and stuffing – but the truth is, turkey day is only the beginning of the cranberry treat season. Here are ten ways that you can enjoy cranberries – with or without your annual ham or turkey – in some of our favorite sweet and savory recipes.
Fresh Cranberry Relish
Though cranberry sauce on your holiday table isn't the only way to enjoy fresh cranberries, it's certainly one of the most common. Fresh
cranberry relish made with oranges and pecans
is healthy and festive – and you can make it a few days before you plan to serve it to save time.
Cranberry Applesauce
It's easy to fall into carbohydrate overload in December, with as cakes and cookies seem to be lurking in every corner. Keep an fresh, healthy snack on hand in your fridge by making a batch of
cranberry applesauce
, which will refresh and tide you over every time you feel tempted to reach for the holiday cookies.
Cranberry Date Cookies
If you're looking for a change from chocolate chip, you're probably not alone. These
cranberry date cookies
, dotted with chopped, pitted dates and dried cranberries are a perfect way to please your sweet tooth or package as a pretty hostess gift.
Gluten-Free Pumpkin Chai Bread with Cranberries
In the winter, we crave warmth. Specifically, warm spices and warm baked goods, fresh from the oven.
Pumpkin chai bread with fresh cranberries
has all of the perfect seasonal flavors – and it's even gluten-free. Whether or not you're planning on holiday entertaining, this is something you'll want to pull out of your oven – and soon.
Arborio Rice Pudding
Ever wonder what you can do with Arborio rice besides make risotto? You can make
Arborio rice pudding
and top it with brandy-soaked dried cranberries for a sophisticated flavor that will make you wish every meal could be dessert. (Photo Credit: Denise Woodward)
Dried Cranberry & Pear Chutney
There are a lot of flavors that mix well with cranberry but sweet pears are a perfect complement to cranberries' tartness. This
dried cranberry and pear chutney
has a ton of ginger for a spicy flavor makes it a great substitute for Thanksgiving cranberry sauce – or a great fridge staple for effortless entertaining.
Cranberry Coffee Crumb Cake
If you do opt to make a traditional cranberry sauce for your holiday dinner and find yourself left with oodles leftover, don't let it go to waste. You can only eat so many turkey-and-cranberry-sauce sandwiches, so take that cranberry sauce and make a
cranberry coffee crumb cake
. It's a perfect breakfast for the day after a holiday dinner or to tote along to a brunch potluck.
Cranberry Granola
More than just a side dish or a dessert, cranberries can be breakfast, too. Incorporate them into your favorite homemade granola recipe, or take this
cranberry granola recipe
for a test drive. (Photo Credit: Joy Jose)
Cranberry Wild Rice Soup
Warm soup on a cold afternoon is the perfect winter lunch and combined with hearty wild rice, you have the perfect meal. Pair
cranberry wild rice soup
with a big, crusty whole-grain roll and a glass of red wine for a well-rounded dinner and freeze leftovers for busy nights when parties and shopping keep you out of the kitchen.
Cranberry Cornmeal Quick Bread
I've made cranberry bread for the holidays practically every year since I was seven years old but it wasn't until recently that I discovered
cranberry cornmeal quick bread
– like a combination of sweet, moist cornbread with tart cranberry bread.
Written by Maris Callahan. Maris Callahan is the author of In Good Taste and as an avid self-taught home cook, is widely knowledgeable about all things culinary. She is especially passionate about helping new cooks learn how  to prepare healthy, delicious meals and snacks, even when life is busy. She believes in Ghirardelli chocolate, farmer's markets and cooking from scratch when possible. When she is not in the kitchen working on her next recipe, Maris works as a marketing professional at an agency in Chicago and in her spare time, contributes to several websites including SheKnows.com and Diets in Review.