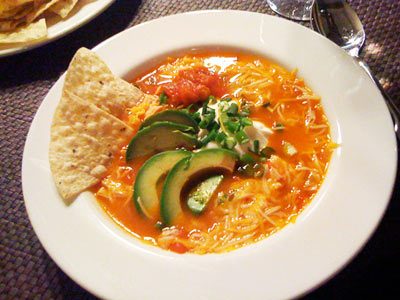 Southwestern Turkey Soup – or Tortilla Soup, which ever you want to call it – is our family's traditional Holiday leftover meal. Sometimes I wait for this turkey soup more than for the turkey dinner itself! I've shared this recipe a few times before at Skimbaco Lifestyle, but wanted to add it here at Skimbaco Home this year. It's super easy to make, you just need a very big pot to make it in. Last Christmas we ever made this in our ski lodge in Park City – it's the perfect soup after a cold day in the slopes. I usually change it a bit every year, and just recently added three different types of beans into this soup making it turkey chili and my friend Naomi of
Superdumb Supervillain
used Ro-Tel and also added carrots and beans. This recipe is so versatile, make it your own! Since I roast and skin the jalapeño, it isn't hot at all, but if you like spicy food, skip roasting and skinning the jalapeño and just sauté it with garlic.
Southwestern Turkey Soup Recipe
1 big heaping soup bowl of turkey / chicken leftovers in small pieces 1 jalapeño pepper bunch of green onions 1/2 stick butter 4 garlic gloves, minced 1 32 oz container of chichen broth 32 oz water 1/2 can (15 oz) can of corn 1 large 28oz can of Roma tomatoes 1/2 cup chopped fresh cilantro 1/2 teaspoon of ground cumin (optional) 1/2 teaspoon paprika (optional) serve with: cut avocados tortilla chips / tortilla strips / quesadillas cut green onions (the green parts) sour cream shredded Mexican style cheese
1. Roast jalapeño the oven on broil it for 10-15 minutes until roasted – until the jalapeño looks all black. Cut the pepper open under cold running water, the cold water will make it easier to peel of the skin of the jalapeño. Peel the skin off and remove the seeds. Mince into small. 2. Cut the green onions in half and cut only the white ends, save the green for later. Mince garlic. Melt the butter in a large soup pan. Add green onions and garlic and saute for about 10 minutes on medium heat (while jalopenos are in the oven). 3. Add minced jalapeño and saute a few more minutes. 4. Turn the stove on high heat. Add half of the chilchen broth, the can of tomatoes, corn and the turkey/chicken strips and let it boil. Add rest of the chicken broth and water, and turn it back to medium heat and let it simmer for good 30 minutes stirring every now and then. (good time to set up table or make dessert). 5. Mince fresh cilantro and add to the soup. (You can substitute to dry cumin & paprika, but for me the cilantro is a must). 6. Cook on medium heat another 30 minutes – gets better the longer you cook. If you cook more than 1,5 hours, add more water or chicken broth. 7. Cut rest of the green onion in a serving bowl, as well as the avocado. Make quasadillas (tortillas and cheese – broil in oven for 5 min per side), tortilla strips (cut tortillas in strips and fry). 8. Additionally serve with sour cream and cheese. We sometimes add salsa on the top too to make it hotter.