This is my pretty normal luggage/bag combo when I travel for trips under 4 days, for business or pleasure. The leather bag is from Michael Kors and the suitcase is a carry on size from Briggs & Riley. I was asked to review
Briggs & Riley
luggage, and given a $200 gift card to shop for a product of my liking. I found a large variety of products I loved, but with Briggs & Riley two hundred dollars didn't get me what I needed. Briggs & Riley is a premium luggage brand, and with that also comes premium quality (and price) and one of the things most amazing things I learned almost immediately about Briggs & Riley is their lifetime guarantee. The amount of
suitcase trouble
I've had, the "lifetime guarantee" was music to my ears. I spent over an hour getting to know this brand in a small luggage store with a salesperson who was telling me about the company and their products. And the bottom line: I felt like getting a Briggs & Riley was like putting money in a bank. Most customer come to this store asking for Briggs & Riley by name; it has a loyal following of frequent travelers, and the lifetime guarantee easily makes lifetime fans.
The first bag that caught my eye is this
Carry On Wheeled Garment Bag
($479), which is the perfect business trip bag, or a trip where you need to get dressed for the best and you don't need much more with you. It took me a while to figure out how to open this bag – it opens from the bottom, not from the top. Brilliant – it lets gravity work for you, not against you like in so many other luggage. Most garment bags don't actually work any better than a suitcase, because if the clothing is too loose, it will gets wrinkled. This is a perfect bag for those who travel with business clothes, or dresses or any clothing that needs more care when packing. I see this a great bag for short business trips, or even when you travel for special occasions and need to make sure your clothing arrives unharmed. Let's just say that if invited to
Oscars
was in my every year event calendar, I'd buy this just for short little jet setting trips like that.
But more realistically, with the airline fees and luggage not making it to my destination enough many times, what I really needed was a good carry on, maybe less hard-core than the garment bag, but something that would work both for quick business trips as well for blogging travel and vacations. I really like this
22″ Carry On Expandable Upright
($299) model from the Transcend collection. It again has very good organizing for clothes that you don't want to get wrinkled. The same bag comes in several sizes by the way, from 19 inches to 27 inches. Great for clothing, but I was left hoping for cute shoe bag that comes with the suitcase, smaller pockets for make ups, and a good spot for high heels, straightening iron etc. The quality of this bag line looks good, and the functionality in organizing clothing is great, but I was coming to a realization while it was good, it wasn't for me, I like luggage with lots of different organizing pockets, and I wanted to keep looking.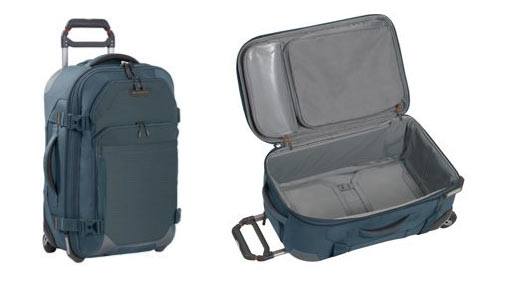 The bag I purchased is the carry on size Explore 22 Upright from
Briggs & Riley's BRX collection
for adventure travelers. It looks sharp and it transforms from ski trips to business trips making it an excellent multi-purpose luggage. I chose the carry on size, and now after traveling with it for three months it has become a loyal travel companion. I was not able to check it in once though – I packed ski boots inside and it went over the carry on size limit. Also on another trip I had it backed too full, and I had two choices either take some shoes of the other pocket or check it in, and I just carried extra shoes in my purse for the flight, and I was then able to put the bag on the overhead compartment. Even when the bag is full, it is easy to wheel. Thanks to the extra light weight of the luggage (7,5 lbs!) I was able to pack it full and still be under the weight limits of any airlines (not including as a carry on when I packed ski boots in). I've done several trips with it now, and it still looks like brand new, and I've been very pleased with the quality and functionality of it. I would like to get a matching larger bag to go with it for longer trips.
Disclosure: I received $200 gift card to purchase Briggs & Riley products. I went over the amount because I bought something I truly wanted. All of my opinions are my own.