I think there are four different ways to see backyards and how to make them to work for you and your needs; it can be the
Family Fun Center
where kids play, the
Relaxing Oasis
for never-ending staycations, the
BBQ and party central
for cooking and entertaining and
Enchanted Garden
for green thumbs to enjoy. For many of us – we want a little bit of each!
FAMILY FUN CENTER
Got kids? The changes are that you will have to have some "family fun" elements for your yard whether you wanted or not. Trampolines, swing sets, swimming pools, basketball hoops and sandboxes are traditional elements for family fun center backyard. Long driveway for tricycle rides and chalk art are a must. If you are not into installing large play sets, live in a rental house or love your kids, but want to preserve your backyard to some entertaining, relaxing and gardening too, here are some great ideas how to get fun for kids, but clean it up when needed.
Backyard tents
Via Ohdeedoh, 1st one by Ready Made, 2nd one by Craft Addictions.
Outdoor tents are fun! If you dare, get a real tent and let kids camp out on the backyard and have an entire different type of staycation yourself too. Don't forget a fire pit for roasting S'mores. If backyard camping is too much, check out two ways to create a backyard play tent with a budget. The good thing about these creations above is also that they are easy to clean up when camping is done – or when the lawn needs to be cut or backyard space needed for a BBQ party.
Easy Clean Up Toys & Activities
If your backyard is smaller on the size, or you just don't want large play sets for the yard, no worries, you can still make it a family fun center for your family. Try games and activities that don't need much space, and toys with easy clean up. My favorites: kites, bocce, croquet and lawn bowling. All of these products pictured are from Pottery Barn, but you can easily create your own kite or lawn bowling set.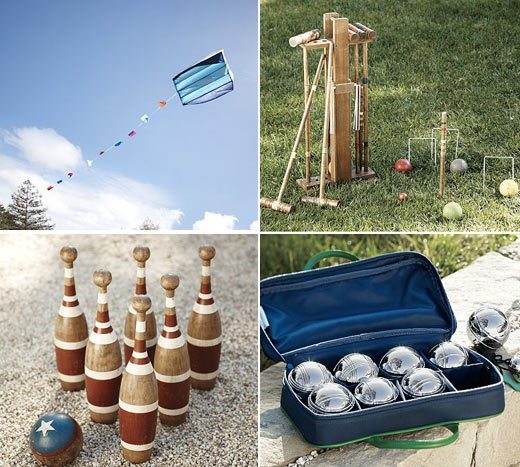 Fun sprinklers
Your lawn needs watering on hot summer days – why not make it fun for the kids..? There are so many fun sprinkler systems that will be fun for kids and do the job of watering the lawn.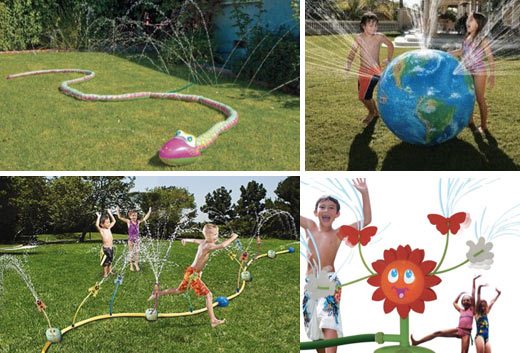 These are all from
Amazon
, but I've seen fun and inexpensive ones also at Target.
Gardening with Kids
Bring back the basics for your backyard this summer
and plant some new plants, together with kids. Fruit trees, potted tomatoes, vegetable patches and berry pushes grow healthy food to enjoy, and teach children about sustainability – and also responsibility to take care of them. If veggies and fruit trees seem too big of commitment, start this year with potted herb garden and potted flowers with your kids. Make gardening fun for kids, and you will have a friend or two to help you with gardening for years to come.
See these and more
kids' gardening tools
.