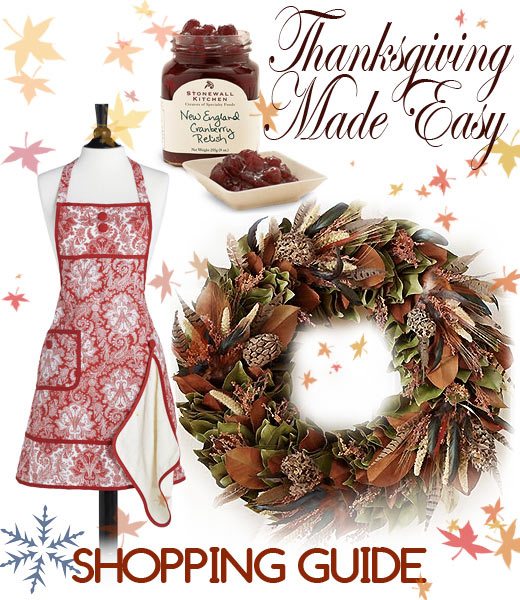 I'm happy to announce the Skimbaco
Thanksgiving Home Shopping Guide
is here! I've collected several great products that make it easy for you to do Thanksgiving cooking, set the table pretty, and get the spirit of Thanksgiving in your home.
My approach to enjoying the holidays is that it has to be enjoyable, a little bit fancy, but easy and also stay in the budget.
There are many things that I recommend spending money on, because they either last for years to come, or they simply make your cooking or entertaining so much easier that it's simply worth the money. Then there are some things that I just can't justify spending a lot of money, like seasonal decorations unless they are heirloom quality and will be passed on in the family. Check out the
Thanksgiving Home Shopping Guide
for great products, and here are some tips how to make your Thanksgiving easy.
Decorate with Seasonal Flowers or Food
Flowers make the biggest impact when decorating for the Holidays or when entertaining. I think seasonal flowers are one of the most important touchous that truly make your home look dressed for the season. I included a section of beautiful wreaths in my shopping guide, and one of my favorites for Thanksgiving is the
Turkey and Pheasant Feather Wreath
from 1-800-Flowers, and they have a great deal going on right now,
you can save $10 on gifts $59.99,
use promotion code TENDOLLARS at checkout. Another great way to decorate is to create centerpieces or displays out of seasonal fruit like apples, pumpkins and pears. They will look amazing, don't cost much and you can eat them later on! The
cournucopia with fruit
pictured above is also from 1-800-Flowers, but you can easily make something like that yourself.
Take Shortcuts in Cooking
I used to be one of those people who did everything themselves, and I mean everything from sewing the tablecloth and baking everything from scratch and canning my own cranberry relish. I adore Martha Stewart, but let's face it, even she has a full staff, and who has time to do it all. So nowadays, I take shortcuts, and make it easier! It's OK if some of the dishes are easier made by using boxed ingredients (I always use boxed cornbread muffin mix for my
cornbread stuffing
). You can also find many gourmet foods from your local store for your Thanksgiving table. One of my favorites is Stonewall Kitchen's
New England Cranberry Relish
that you can also buy online. Just put it in a beautiful dish and nobody has to know this year you didn't make your own relish. And in case you have been just using the canned cranberry stuff, well, it's about time to switch to something more sophisticated and tasty! You can also host the Thanksgiving dinner potluck style, or make some of the food, like pies ahead of time and just freeze them. And honestly, the amount of delicious gourmet food that you can have delivered to your door isn't lacking these days. My favorite cake shop is
We Take The Cake
, and you'll be able to find a perfect cake to end your Thanksgiving meal from them, and you'll save time and stress not cooking it yourself!