When I still worked as a social media strategist for some of the largest brands in the US, we used to have this picture we showed all of our clients. It was a picture of hundreds of different social media, social bookmarking and community based sites. It literally is impossible for every person, or every organization to be everywhere, and frankly there is no need to.
The key is that there is the best fit for everyone out there to find your people, your interests and a site or a community that makes your life richer.
Pinterest is simple social image bookmarking for many different types of people. The more Pinterest has grown the more there is also content that you don't want to see, and practices you don't want to be part of, and with the popularity of Pinterest there are new Pinterestique-sites. Check out some alternatives for Pinterest, and while the title says Top 15 – the number 15 is a list of a few, because like said.. the list of new sites popping is never-ending.
Love Pinterest? Check out
Global Mappin
, weekly Pinterest live event with new theme each week!
Must Know Social Site for Travelers
Trippy
Trippy is an amazing site for travelers. You can share travel ideas with friends, create boards to plan a trip and ask ideas and recommendations from others. I'm a total newbie using the site, and can't wait to get to the pro status, already in love.
Social Bookmarking Sites for Foodies
Foodgawker
Foodgawker is visual bookmarking all things food, and you can find food photos (that typically link to recipes) by category. If you are tired of everyone submitting their semi-homecooked cupcake recipes made out of box on Pinterest, Foodgawker is for you for finding truly stunning (and delicious) food. The site is moderated and only the best photography approved.
I Wanna Nom
I wanna Nom is your visual recipe box where you can save the recipes you like or want to try. You can also connect with other users and vote and comment on their recipe finds.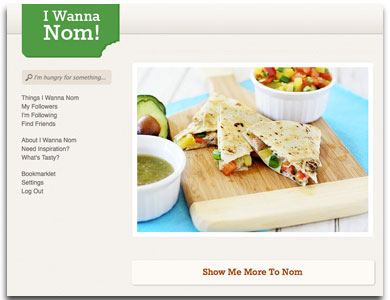 Idea Rich Sites for Craft/DIY Lovers
Craftgawker
is a social bookmarking tool for all things DIY, crafts, knitting, woodworking, home sewn clothing and pretty much anything DIY. The catch – they moderate the site and only the best gets posted. But that's why it's even better than Pinterest – the visual quality is guaranteed high.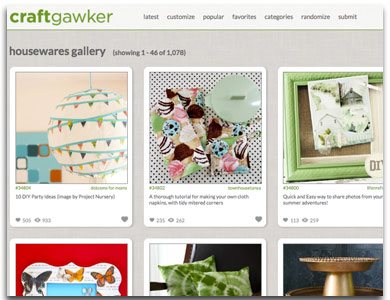 Websites for Home Decorators & Wannabe Interior Designers
Project Decor
Project Decor is on my top list to master. It's like Pinterest and Polyvore had a baby who wants to be the best interior designer in the world. On the other words: you can browse and shop for home decorating products, furniture, lighting and more and either share your finds (to Pinterest, Facebook or Twitter), click out to buy it or create your moodboard / inspiration board to design your room. Project Decor just launched, and I have a feeling it'll be the HOT new thing for all interior design lovers.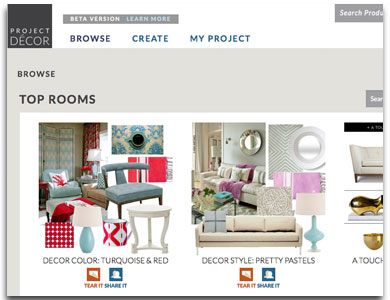 Dwellinggawker
Dwellinggawker is like Craft- and Foodgawker for the little interior designer in you.
Awesome Websites for Photographers & Photography Lovers
500px
An amazing photo site. You can find thousands of high-quality photographs from various subjects from around the world. You can find, share, buy and sell high quality photographs.
Inspirational Social Sites for Designers & Typography Lovers
Designspiration
Cool website for design, typography, poster and graphic design inspiration. You can also get inspiration for fashion or product packaging design. User submitted content.
Dribbble
Dribbble is a community of web designers, graphic designers, illustrators, icon artists, typographers, logo designers, and other creative types share small screenshots that show their work, process, and current projects. You can find designers – or just admire their work, or join in if you want to show off your work. My favorite feature: you can search images by color.
Social Sharing sites for Trendsetters and -followers
Ology
With Ology you'll instantly see what's trending on the web – in a visual form. Forget about trying to read all of the tweets, Ology shows you the trending topics, viral videos, celebrity gossip, breaking news and fashion trends and you can connect with people who have similar interests.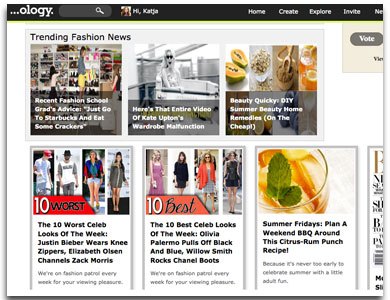 Wanelo
Wanelo is great for finding new products from unique small retailers or even from Etsy sellers. The product posts have a link where to purchase and you can even see the price without leaving Wanelo's site. They also have an all time popular page and trending products that are hot right now. Great for trendsetters and -followers.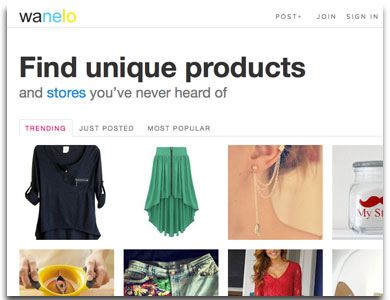 We Heart It
We Heart It is like the younger sister of Pinterest, and even the users are younger. It's a great site for keeping track on the fashion and clothing trends (especially among young people), and you can browse the images by tops tags.
And a few more…
The list is long, and if you didn't find a new site to love, here are a few additional ones:
FFFFOUND!
Zootool
Visualize Us
Piccsy
Gentlemint
Picocool
Manteresting