IKEA 2013 Catalog Photos
IKEA 2013 catalog is here! Check out some pictures from the catalog to showcase some of the best for 2013. I have to admit, I haven't been to IKEA for a while. After we moved I was there about every third day and
I got my dose of IKEA
for a few months, and then been there just to get more plates for summer parties. Today I have to get another guest mattress for more visitors coming, so probably by the time you are reading this, I'm already at IKEA!
Oh, by the way, not all Scandinavian people like IKEA. I get it – they make cheap furniture that doesn't last for 100 years, and their designs are often inspired by (expensive) Scandinavian designers' work, and then people choosing the cheaper copy instead of the real deal. I visited a friend's house and she said to me "I'm proud to say that we don't have anything from IKEA in our home," and I almost corrected her by saying "yes, you do, the lanterns I brought you the last time." We? When we lived in upstate New York, we drove all the way to Ottawa, Canada to the closet IKEA. Heck, when I live outside Scandinavia, I even buy food from IKEA. Besides, IKEA furniture looks perfectly fine with my designer furniture, and expensive Marimekko textiles. Mix it up!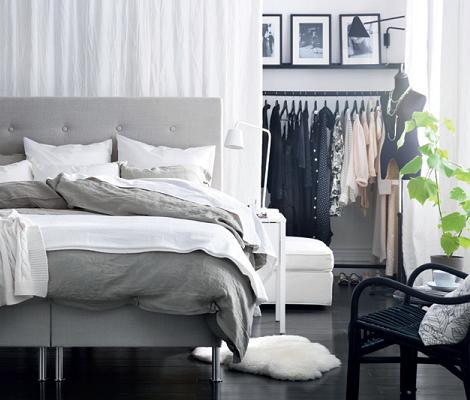 Our bedroom still needs the most work, and I can't wait to see all of IKEA's new textiles especially.
I LOVE the mirror panels on this dresser! Makes me wish we hadn't already bought dressers to our closet, these would make the room look even bigger.
Turquoise furniture, yes please! It's one of my favorite colors in interior design, and we could use some color to our all white home, will be checking these out.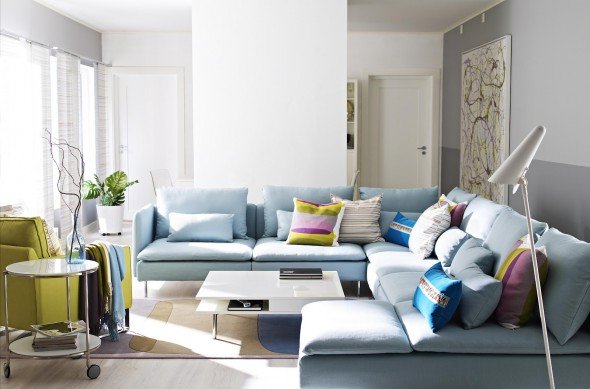 This built-in-looking bookshelf make my heart sink a little.. One of the bad parts of being a nomad is that you can't own much stuff, because you can't move it all. I used to have so many books, but now barely have any, and it makes me sad. I miss my old living room from over 10 years ago when I still had a living room wall with bookshelves full of books. I would love to have a wall like this. Even the white bookshelf below looks nice..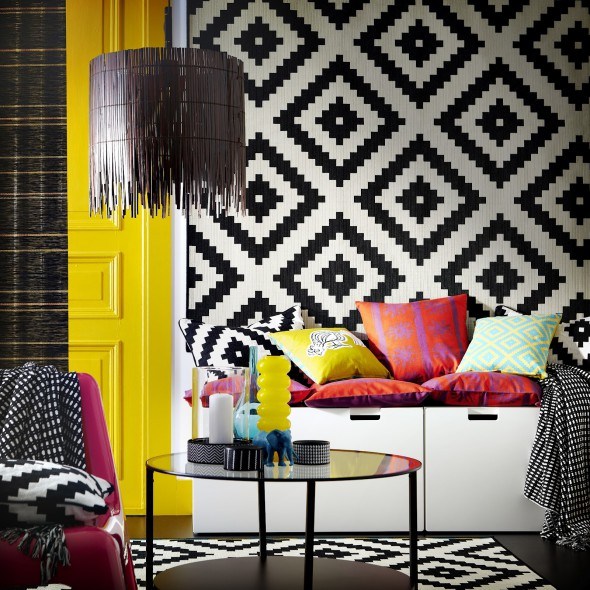 Textiles & creativity
I am really trying not to buy anymore furniture, because I want to keep it simple while we live here, but also I have no idea what happens in 2,5 years when we move out of Sweden – we might go back to New York, or move somewhere else in Europe, who knows. Either way, I can't take it all with me. One of the best ways to decorate on a budget, with the latest trends, or without committing to expensive furniture is to change the look with textiles, and that's what I will be focusing in. The IKEA 2013 catalog has so many not just great fabric prints, but also ideas what to do with the fabrics. The IKEA-hackers have always been a big part of IKEA-culture, and I love how the company embraces it. The 2013 catalog even has DIY-ideas.
IKEA 2013 Catalog App
Oh, one more thing… when you do get your IKEA 2013 catalog – make sure to also get the catalog app to get more out of your catalog. More content, interactive virtual content.. check out this video, it looks very cool.