Adrienne Shubin of The Rich Life (on a budget)
, she will cover the California lifestyle, especially in the Sonoma Valley.
The Best of Sonoma Valley
When most people think of visiting northern California's world-renown wine region, they think of, well, wine! Wine tasting, vineyard, cave and winery tours, grape crushing, wine classes, and wine pairings are experienced by many visiting Sonoma Valley. While taking in all that is wine in the wine country is tasty, fun, educational and resplendent with beautiful scenery, it's not the only thing Sonoma Valley has to offer. Having lived in Sonoma Valley for over 13 years, I am familiar with an array of places to go and things to see, eat, buy and do. And I'd like to share them with you to make your next visit to Sonoma Valley full of variety. I've created a series of articles, each aimed at visitors with distinctive interests.
I'm kicking the series off with "10 Ways for The Shopper to Enjoy Sonoma Valley", a topic near and dear to my heart.
Like most people, I love quality clothing and accessories. But I don't like the hefty price tags that often accompany them. I also don't like shopping at big chain stores. I prefer to spend my money at a locally owned business, especially when I travel. Who wants to return from vacation with the very same items you can by at the local strip mall, a mile from your house?
10 Shops for Fashionista in Sonoma County
I have compiled a list of ten of my favorite shops, all locally owned, that I recommend visiting during your stay in Sonoma Valley. Here are also some of my favorite outfits with the products found from my favorite stores.
1. Bling!
Bling!
is located in Santa Rosa's Montgomery Village. It's where I go when I want a special piece of costume jewelry for myself or for a gift. Bling! carries all the sparkles and baubles you could ever want and at reasonable prices.
I bought this head-turning, faux pearl statement necklace at Bling!
for New Year's Eve this year.
2. Outlander Men's Gear
Outlander Men's Gear
, located on the plaza in Healdsburg, prides itself on being "the only complete men's store for the wine country lifestyle". When I want to find that special something for my husband, I go to Outlander. They carry great dress shirts, beautiful sweaters, designer jeans, gorgeous leather jackets and lots of accessories for men.
3. Large Leather
Large Leather
 makes and sells a variety of handmade leather items, each created right there in their tiny shop on the plaza in Sonoma. I particularly love their
huge assortment of leather bracelets
, fantastic belts and handbags of all sizes. Large Leather takes custom orders.
4. Cupcake
Cupcake
is a children and maternity clothing boutique with locations in Santa Rosa and Healdsburg. They carry all sorts of darling dresses and dapper outfits for your little one and fashionable maternity wear for the mother-to-be.
5. Paper Dolls
Paper Dolls
 consignment offers gently used designer clothing and accessories. They are very selective about what items they will take resulting in a wonderful inventory. I have found pieces by Tory Burch, 
Laundry by Shelli Segal
, and this neutral J. Crew blazer, all from this hidden treasure in Santa Rosa.
6. Hot Vintage Couture
Hot Vintage Couture Fashion
has been at their current location in Santa Rosa for nearly 29 years. They sell high-quality vintage clothing that is 35 or more years old and in excellent condition. They not only sell vintage pieces, but they rent period costumes. It's fun to browse through all the many decades of fashion.
7. Goodwill
Goodwill
, specifically the location on Fourth Street in Santa Rosa, is a gold mine for lovers of thrifty fashion. If thrift shopping is your thing,
as it is mine
, you will love this Goodwill. The shop is small, tidy, with a friendly staff  and carries the cream of the crop of donated clothing and accessories. I found this feminine, blush-colored dress at Goodwill on Fourth Street. No one would guess it was just $5.00!
8. Rainsong Shoes
Rainsong Shoes
, with two locations in Sonoma Valley, carries the latest shoe and handbag fashions. Choose from designers such as Frye, John Fleuvog, Pikolinos and more.
9. Rete California
Rete California
, on the plaza in Healdsburg, has both men's and women's clothing. If you're looking for that perfect pair of jeans, or just the latest in casual fashion trends, you'll find it at Rete. They even have a "denim smith bar" that includes designers like True Religion, Joe's Jeans, Hudson and many more.
10. Ma Cherie et Moi
Ma Cherie et Moi is a fine lingerie boutique also located in Santa Rosa's Montgomery Village. The energetic owner and her staff will help you solve the mystery of "What's my bra size?" Expect excellent customer service, expert sizing and be prepared to be wowed by the delicate and feminine bras that come in many sizes, most of them European brands. I adore my flattering French bras and
lace pieces from Ma Cherie et Moi, 
like this Hanky Panky lace top I wore recently to a friends' wine country wedding. Happy shopping, you Fashion Lover, you! Next time, I'm featuring a list of fun things for the Outdoorsy-Athletic Type to do in Sonoma Valley. Stay tuned!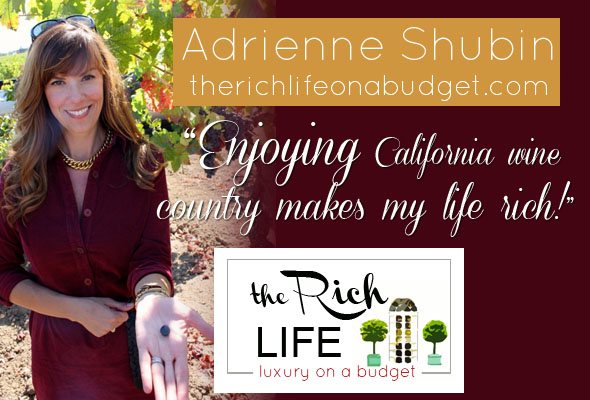 Editor's note: please join me to welcome our new writer