It's time for Springtime
When buying new home decor pieces for spring, I wanted to challenge myself to buy versatile pieces that I could use throughout my home in various ways. When I laid eyes upon this white accent table from Target, I knew I had to have it in my home. Right away my mind was brimming with ideas on how to style it! My first inclination was to style it as a bar cart. I simply love the idea of a bar cart in a modern home, complete with cocktail glasses and assorted liqueurs. To my arrangement, I'd add striped straws, a bowl of nuts and some fun napkins.
I also saw this accent piece in a bedroom, as a vanity of sorts. It would make such a chic display for perfume bottles, hair spray and whatever other girlish accessories you might want to show off. I decided to use it to showcase my jewelry.  I love having my necklaces and bracelets displayed where I can see them. It's so easy to forget what I have when it's tucked away in a jewelry box.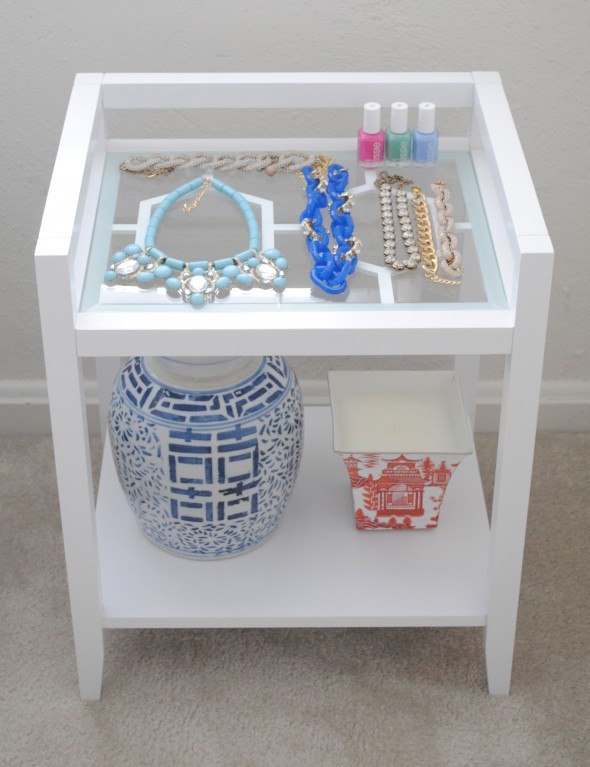 The second piece of decor I bought for my home this spring was a set of three moroccan mirrors, pictured on the left. I love their unique design and their versatility. Since they come in a set of three, they can be arranged a number of different ways. I love mirrors because they reflect light and add another dimension to any room.
Both items are from Target's new Threshold line, which is gorgeously modern and classic at the same time. I truly do love all the items featured in the collection! To see more of their new line, you can watch (and shop!) the video below: Disclosure: Compensation was provided by Target via Glam Media. The opinions expressed herein are those of the author and are not indicative of the opinions or positions of Target.