From Insta to Pinsta
Like the name Instagram suggests – it is instant. The picture gets snapped, the fingers on the phone screen adjust it to crop the image, a filter is applied and "share" button clicked and the photo is posted for the Instagram users to see on the top of their Instagram feeds… until it is replaced by newer photos and pushed down the feed. If the photos don't have specific tags (that you will remember) or are from one of your favorite people (whose username you will remember), it is almost impossible to find the same photo again on Instagram without using the methods I mention in my book
Instagram as your Guide to the World – How, What and Who to Search and Follow on Instagram to Help You Travel the World
. Today I am publishing a short part from the book, and teaching you
Insta-Pinning
.
Insta-pinning: using a combo method of using a website like web.stagram.com or gramfeed.com for finding Instagram photos and Pinterest.com for bookmarking those photos.
Unfortunately you can not Pin images from Instagram.com website, but there are several different websites that allow you to view Instagram photos online. One of the best one for Insta-Pinning purposes is
Web.stagram.com/search
, and it works a lot like the Instagram mobile app search. You type in a search word or a hashtag and the site shows you all of the photos with the keyword. What's great about Webstagram compared to some of the other sites is that it automatically adds the username of the person who took the photo in the comment section of your Pinterest image. It is always important to remember to credit the photographer and add the username or link to their profile in the images you pin.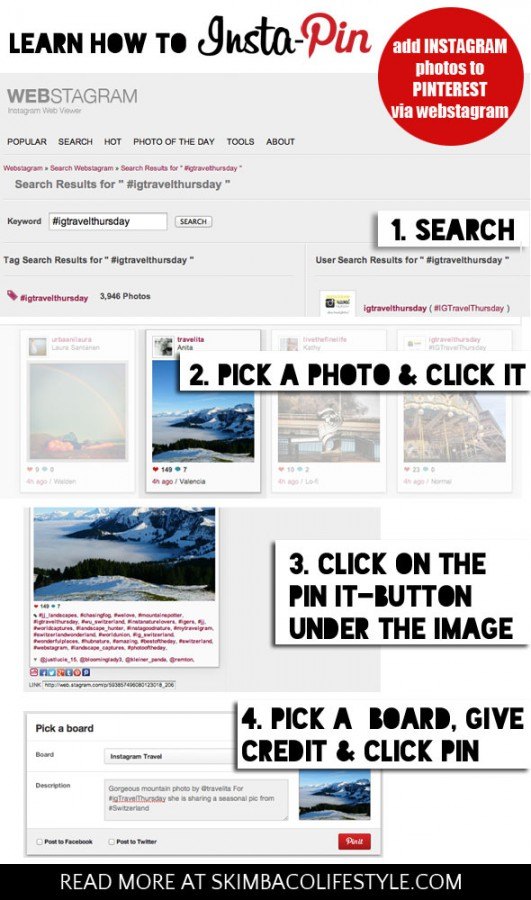 Insta-Pinning = Combination of Instagram and Pinterest
For serious travel planning, or just for sharing your favorite photos, I recommend Insta-Pinning, using Instagram and Pinterest together by finding Instagram photos using websites like web.stagram.com and gramfeed.com, and then bookmarking the photos with your own notes on a Pinterest board. This way you can easily save the photos you have found for future reference when you are actually making travel bookings or finalizing your trip plans. I recommend starting a Travel Inspiration board on Pinterest. On Pinterest you can now also create a private board that only you will be able to view, so you can always go back to those photos without publishing your board to the public.
(When you are creating your Pinterest board click the tab "secret" to "yes" and your Pinterest board is only viewable by you.)
STEPS HOW TO INSTA-PIN
1. Log in to your Pinterest account. Use
http://web.stagram.com/search
or Gramfeed.com to search photos. Just remember though, the rights of these photos belong to the people who took them, and always proceed with caution when you use other people's photos. I highly recommend reading both Instagram's and Pinterest's privacy policies before starting to use either service. 2. Use keywords to find specific hashtags or usernames to find the photo you want to Pin. Browse through the search results until you find the photo you want to Pin and click on it. 3. Click the "Pin it" image under the photo and a new screen will pop up. 4. You can choose which Pinterest board you will want to add the photo, and write your own notes under the photo. Click "Pin it" and you're done.
Now you can easily find the photo you found on Instagram in one of your Pinterest boards. I pin my favorite travel photos to a specific
Instagram Travel board
, and if you would like to join our Instagram Travel board to add your favorites from the Instagram Travel Thursday community, please let me know and I will tell you more about it.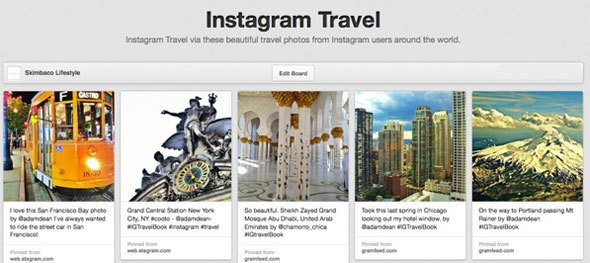 Join the Instagram Travel Thursday Linky
Join us! Bloggers – add your blog post to the linky. Not a blogger? No problem. Join us at Instagram by using hashtag #igtravelthursday and share your travel photos. But sorry- no linking to Instagram images from the linky, just to blog posts. Get email sent to you when the Instagram Travel Thursday linky post is up (
subscribe it here
) and
add your Instagram profile link in the Instagram Travel Thursday page
and follow other travelers who have left their links there as well.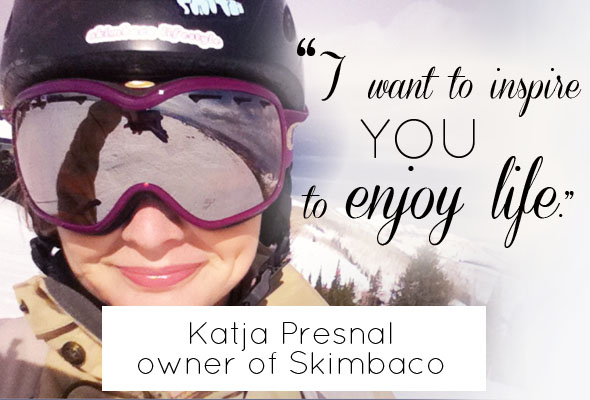 My mission is to inspire you to live life to the fullest and find your own "skimbaco," how you enjoy life where ever you are in the moment. For ideas for travel, home, food and fashion,
subscribe to weekly Skimbaco Lifestyle
feed on Mondays and
I hope you get my newsletter as well
that I sent out sometimes on Fridays.