Radiant Orchid fashion
Each year, Pantone carefully selects a group of colors that best represent current trends. They research the entertainment industry, traveling art collections, current street styles, technology, up and coming travel destinations, and even popular sporting events to come up with the colors making the biggest impact for the year. One color is then selected among the group as a stand out and Pantone's Color of the Year. This year, it's Radiant Orchid, a stunning, statement-making shade that has been showing up in everything from shimmering eye shadows to sporty sneakers. Shades of pink and purple have always been my favorite colors since I was a kid. That's why I am thrilled Pantone selected Radiant Orchid for 2014. From lip color to shoes, there are so many ways to wear Radiant Orchid. As a die-hard shoe lover, I had to get these pumps on my feet the moment I saw them and I am so glad I did! They take an ordinary pair of jeans and turn them into a stylish spring look ideal for day or night. I have gathered some of my favorite fashion bloggers and style influencers from around the web to show the many ways Radiant Orchid is being worn this year. Read my entire story from the
Skimbaco Lifestyle Issue 2/2014, starting on page 14
.
Color: Joy!
Name: Cynthia Yang Blog:
My Rose Colored Shades
When it comes to my wardrobe, I'm the first to admit that I'm more of a neutrals than a bright colors kind of girl, although that has changed somewhat over the years. There are certain colors that might not be at the top of my list to wear but when I see them, they make me feel happy. Radiant Orchid is one of those colors. I associate Radiant Orchid with the vibrant colored flowers that my eyes feasted on during my time in Kenya and along with it all the good memories I made there."
Wear bright colors that make you feel joyful. A happy smile like Cynthia's is the best accessory!
Mom fashionista!
Name: Nicole Feliciano Blog:
Mom Trends
Radiant Orchid is a cheerful and bold hue. For those intimidated by brash color, consider adding it as a color pop on your pedicure. LVX nails makes a great vegan polish in orchid. For me, I'm looking forward to wearing my vibrant Stella McCartney silk top. It's the perfect way to welcome spring."
Radiant Orchid is suitable for the office, a night out on the town or a casual polished look like Nicole wears.
All you need is pink!
Name: Catherine Summers Blog:
Not Dressed as Lamb
I was more excited about Pantone's Color of the Year for 2014 than any of their other colors because I'm a total sucker for all shades of purple and pink. It goes so beautifully with fuchsia, candy pink, plum, magenta, and burgundy. I also love the idea of wearing it with its opposite on the colour wheel, olive green, this summer. Radiant Orchid seems to have made more of an impact than any of Pantone's other colours of the year have so far and I'm so pleased because I think it manages to be both elegant and fun at the same time."
Try wearing a monochromatic look like Catherine's using various shades of Radiant Orchid from hot pinks to plums.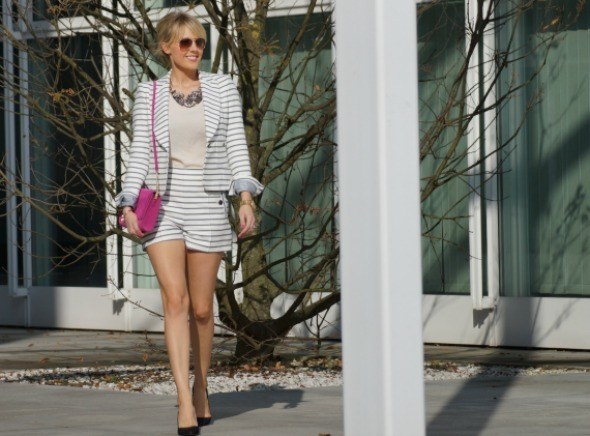 Name: Dale Janee Blog:
Savvy Spice
When I heard Radiant Orchid was the 2014 Pantone Color of the Year, I said 'Yes' to myself. It's bright, cheerful, girly, and as Pharrell would say clapping his hands, it's 'Happy.' I assumed it would be easy to find (here in Switzerland) but in a sea of black, grey and white Spring collections, my sweet Orchid was nowhere to be found. Finally, I spotted a bright handbag in the sought out shade with a classic gold tassel to complete my striped shorts suit. Hopefully your search is going smoother because this shade is truly flattering on every woman."
Amp up your neutral look like Dale has with an accessory in Radiant Orchid. It's a vibrant color that works very well with every neutral especially navy, black, gray and white.
For men too!
Name: Wes Holland Blog:
Life Through Preppy Glasses
Radiant orchid lends itself easily to preppy style as pink is almost a staple in my closet. If you love making a bold statement, try a cabled sweater in pink. Paired with a polo and pastel pants, it will create the perfect spring and summer outfit for brunches, church, and vacations. The blazer elevates the look and can make this classic outfit perfect for business casual situations. As we transition into summer, radiant orchid and other shades of pink are a great way to liven up any outfit. You will be right on trend in your pastels and pink!"
Adding Radiant Orchid in the form of ties, shirts, sweaters and socks make for a fashion forward look for men that oozes self-confidence. As you can tell from our stylish group of bloggers, Radiant Orchid can be added to your wardrobe in many different ways from head-to-toe like Catherine's look to small pops of color in the form of a handbag, nail polish or even socks! Men and women alike are embracing this vibrant shade. Are you one of them? Read the entire magazine here: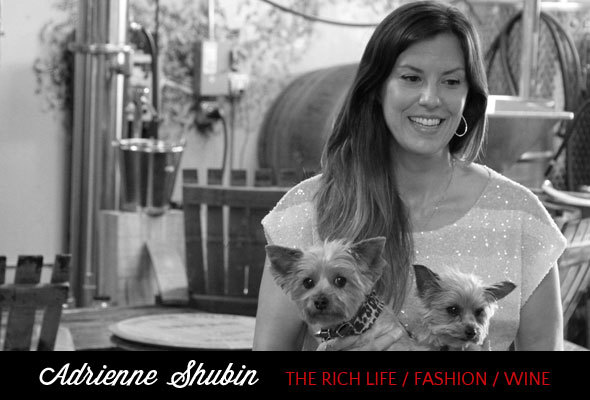 I think anyone can live The Rich Life even on a budget. Consider subscribing to once a week emailed
subscribe to weekly Skimbaco Lifestyle
feed.