This marks our third and last summer in Sweden, and each summer we've had visitors for several weeks. This summer is no exception. Each year we have made changes and additions in the way we can accommodate our visitors. I truly think one of the best things about moving to a new country is the ability to share it with others; whether it's via stories, Instagram photos (Follow me as
Skimbaco
for travel photos and
KatjaPresnal
for home and food photos), or by inviting friends and family over.
Our nomadic home decorating budget is pretty much zero dollars due the fact that we didn't come to Sweden with a
generous relocation package
, and all of our moving costs are not paid for. Only a very small amount of our things will follow us to the next place. We rent some of our furniture, and the rest of the things we have made finds from IKEA, flea markets, and gotten generous donations from friends! This time we turned our extra summer room in the attic to a generously sized guest suite. The wood-paneling and inexpensive flooring was done already for the room. Check out how we turned our summer room into a guest suite for our friends and family – on a dime!
Using what you have
The house we are renting had several furniture already in, and the guest room was the perfect place to add the very short-shelved bookcase found in the house. Open-shelved bookcase makes an excellent shelving for clothes, and visitors don't have to be afraid they will leave something behind because everything is in sight. The bookshelf is open on the back, so I just added a black curtain to hide what's behind it.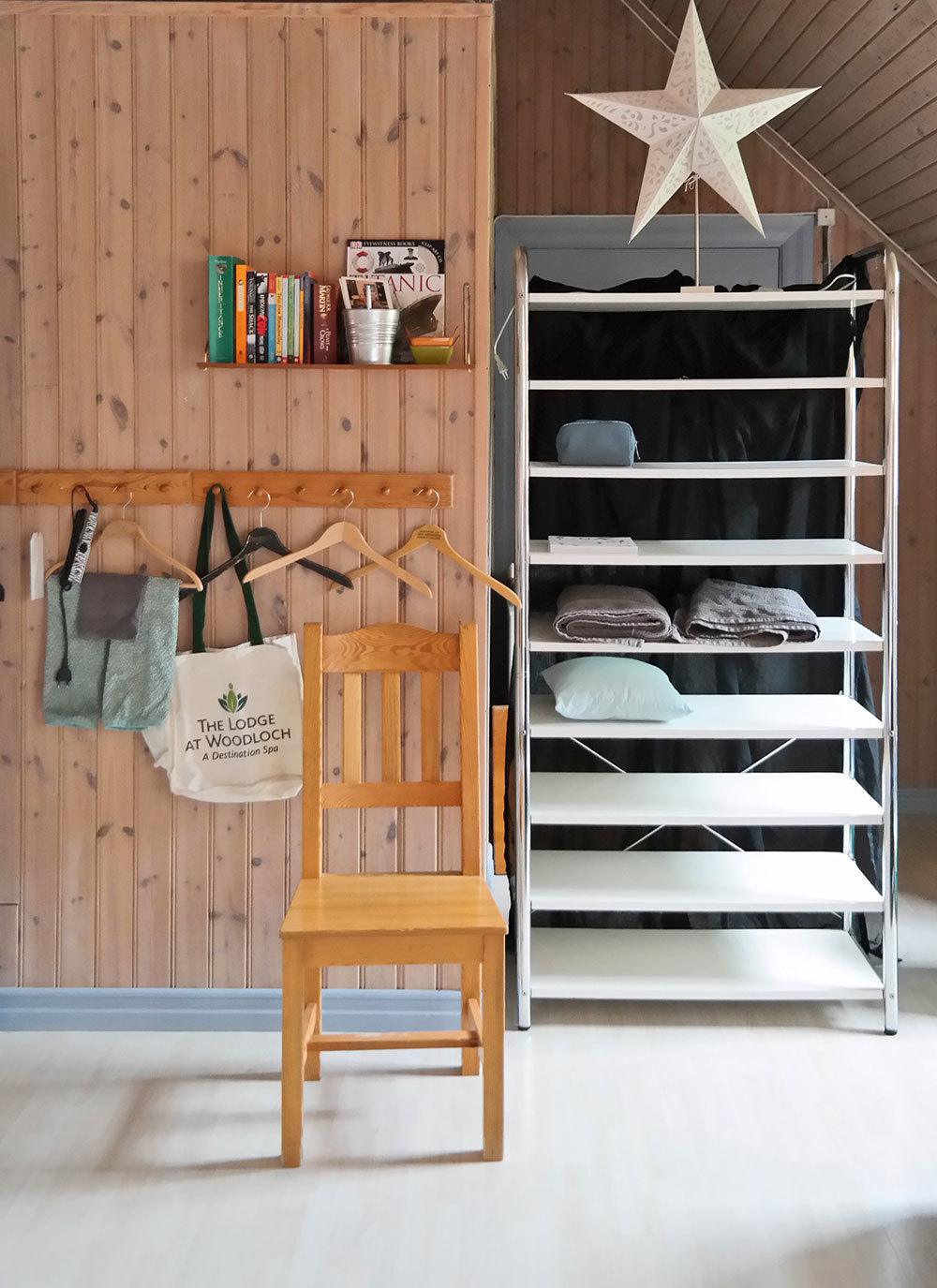 The star is a paper Christmas light, typically used in each window in Sweden during Christmas time, but was the perfect prop for the bookshelf.
The old Pottery Barn and Nate Berkus curtains found a new home in the guest room. Ideally I would have darker curtains to block the light of the nightless summer nights, but I only had one full dark curtain and the other one was already cut for a smaller window in the room. I think I bought these when we lived in Ohio years ago… and now realized I haven't used them ever since. Another reminder not to buy AND move many old things to new houses or they might just end up taking space in the closet. I'm happy that these finally found a place.
IKEA finds
I am not going to lie – I love IKEA because it fits our lifestyle. The furniture is inexpensive to buy, and usually stays good for a few years, and we can still easily donate or sell the furniture before moving to a new place. From an experience: IKEA furniture isn't high quality, and can not be moved several times, but if you want to extend the furniture's lifetime, always add glue when assembling the furniture. This way we have been able to get some last even a few moves. IKEA furniture is also great for vacation houses, college dorms, for students – and yes, for inexpensive guest bedrooms!
Lamps, side tables and even the plant from IKEA. All beds and the bedding and guest towels are also from IKEA.
Add personal touches and decorate with books
Everyone needs own space even when visiting loved ones. I added magazines, books, and even a bucket of postcards that I have made. Books are also great for decorating and we all added some books to the shelf waiting for our guests.
Spray-paint old things for cohesive look
I have been obsessed with copper spray-paint the past year. Flea market flower pots and candle holders got a brand new cohesive look when all spray-painted in the same color. Copper gives a nice warm touch and it somewhat makes even jelly jars and
soup cans
turn into nice pots with a copper paint layer. I used painter's tape to mask a part of the washed old jelly jars and spray-painted the rest with copper spray-paint, and used a wire around the jar to hang these simple hanging flower vases in the guest room. I actually made these already for
our Halloween party
, but they got a nice third life before going to recycling.
Use flowers
Instead of buying decorative items, buy plants or flowers. They instantly make the room come alive.
Cheap DIY ideas… like origami birds
Origami is even more elegant, but equally inexpensive DIY decor idea. Kids made origami birds and animals to decorate the guest room. You could also make a few origami birds and hang them from the ceiling for an elegant but cheap mobile.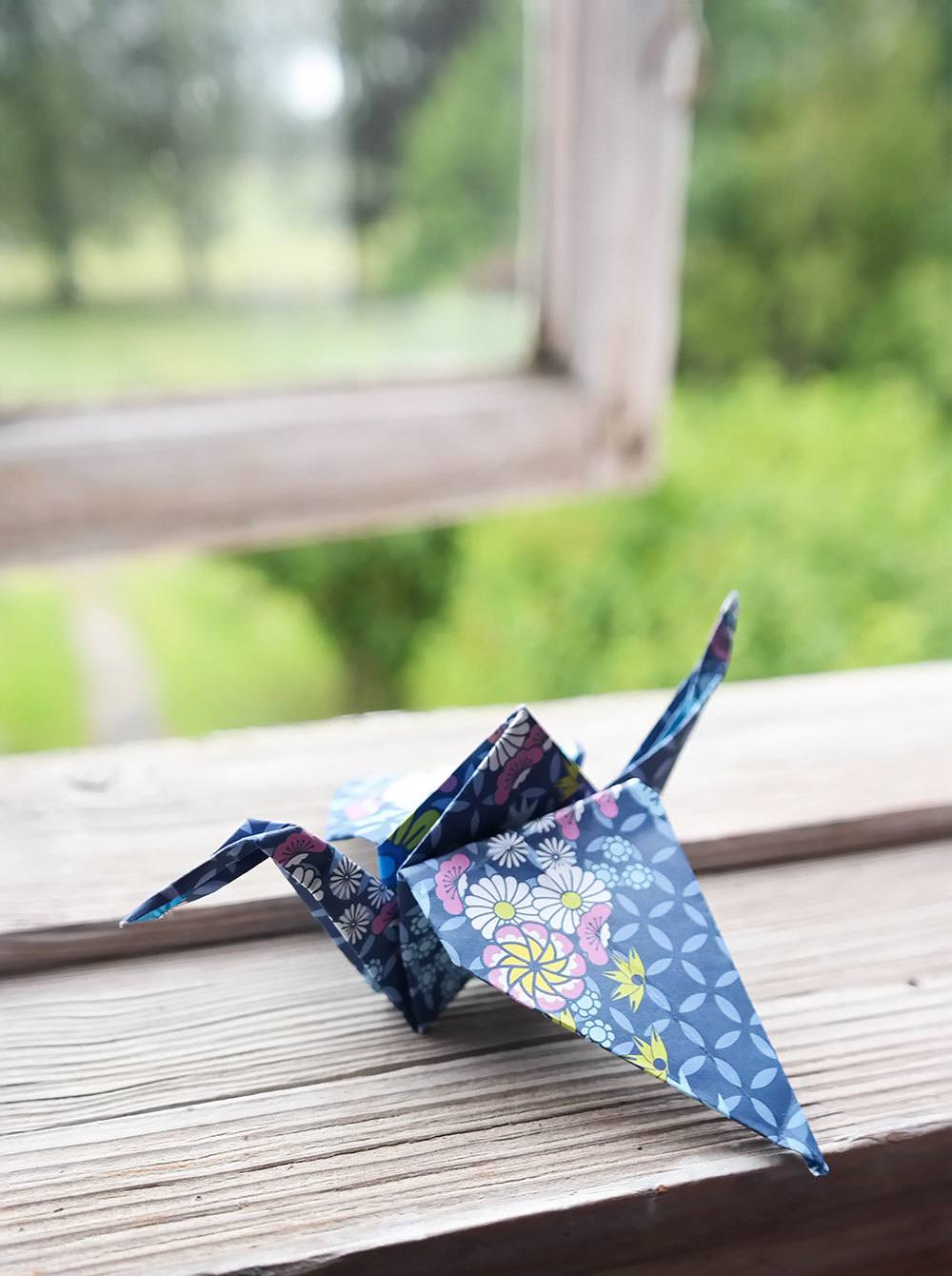 Add a designer element
Even when I create a room with a low budget, I add something nicer to the room to elevate it.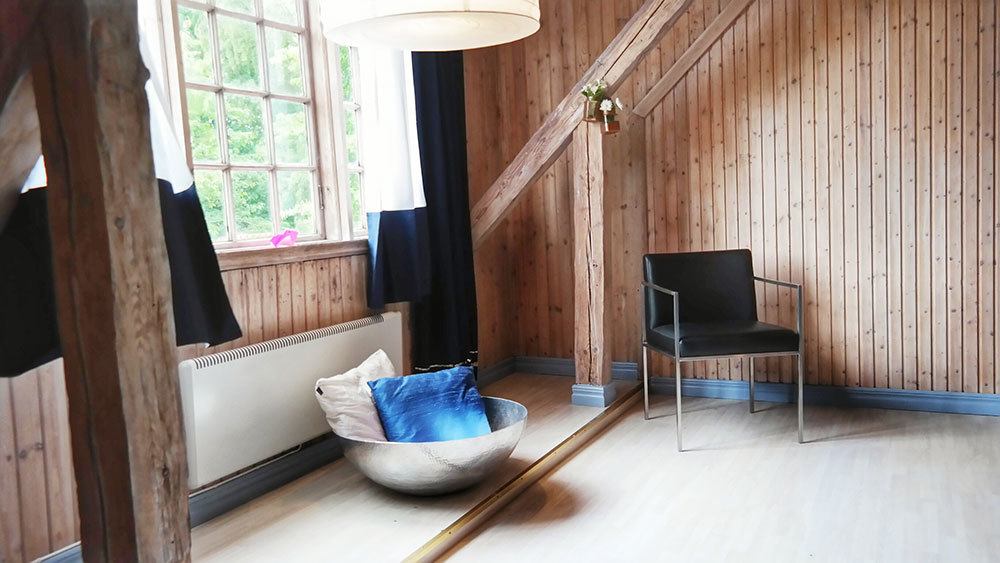 The curtains and some of the fabrics and the silk pillows are high quality, and the Danish designer chair immediately elevates the room from looking like it's directly from IKEA catalog…. even though almost everything is from IKEA!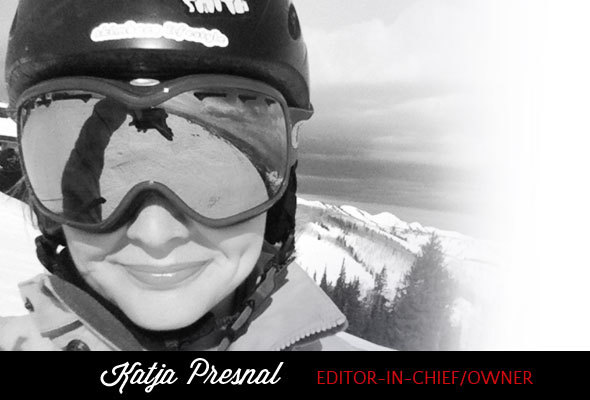 My mission is to inspire you to live life to the fullest and find your own "skimbaco," how you enjoy life where ever you are in the moment. For ideas for travel, home, food and fashion,
subscribe to weekly Skimbaco Lifestyle
feed on Mondays and
I hope you get my newsletter
that I send out sometimes on Fridays.