Start sharing now! Click the share button and get the code and you can post the show at your site!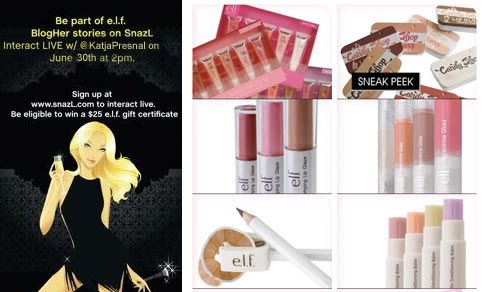 I have exciting news!
I am hosting my First Ever Interactive LIVE Multimedia Snazl show TODAY on Tuesday June 30, at 2PM EST!
The show is part of
e.l.f. Cosmetics BlogHer stories series
, done by
Snazl.com
, and can be seen at both of those sites and here at SkimbacoLifestyle.com – heck, you can even embed it to your site! That's the beauty of Snazl – same show live on multiple sites.
In fact – if you do want to show it LIVE on your site and be part of hosting it, I would totally love it! I will raffle $25 e.l.f. Cosmetics gift cards, and one will be raffled among those bloggers who are hosting the show on their sites.
Part of the show is a video of Snazl interviewing me about my fashion tips at the e.l.f. Cosmetics headquarters in New York last week. Speaking of New York… I saw a
Super Star
in NYC yesterday, a true fashion icon! Find out WHO and see the picture I snapped at 2 EST in the live Snazl.com show. The first $25 e.l.f. Gift Card will go to the person who guesses WHO I saw! Be here at 2 EST sharp and I will start dropping hints. Everyone can join the show by signing up at Snazl.com and anyone can host the show at their sites – just be sure to be here at 2EST to get the code. If you will be hosting the show, leave your link below to enter the giveaway! And everyone being part of the show at ANY site will have a chance to win the remaining 4 gift cards.