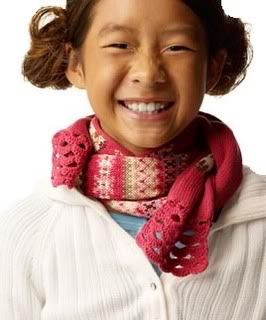 Photo: GAP
You don't have to shop at GAP this Holiday season.
Not just because they pulled many of their items of the production and their shelves are going to be empty, but also because
you should boycott
GAP for using child labor. Again.
I don't use any GAP products, they have been on my personal boycott list since the last child labor cases a few years ago, and I am not all that surprised to hear this again.
I know how much they have donated with their RED Campaign, trying to help to eliminate AIDS in Africa – they advertise it a lot. Still, I can't make myself to purchase anything from a company, which might/does use child labor.
Observer
writes:
"Amitosh concentrates as he pulls the loops of thread through tiny plastic beads and sequins on the toddler's blouse he is making. Dripping with sweat, his hair is thinly coated in dust. In Hindi his name means 'happiness'. The hand-embroidered garment on which his tiny needle is working bears the distinctive logo of international fashion chain Gap. Amitosh is 10."
Read more from the
Observer
, or from
CNN Money
.