Last year my girls took some figure skating lessons, but this year we signed them up for
ski lessons
. We weren't really planning on getting kids to skating this year, I don't really like to have too many after school activities with the children yet, since they are so young, and school days are long enough.
But then we realized – we have two ponds in our yard and our neighbour told us kids have been skating on the ponds before, and we got pretty excited. Not just
skiing
on our yard, but also skating!
So ice skates are now on the wish list and we are hoping Santa will bring kids some ice skates. Here are some ice skates I found online, if you know other great stores to find ice skates for kids – please leave a comment! Keep in mind that my picks are meant for recreational pond skating, not for taking lessons.
I wouldn't say that I'm all that experienced ice skater, but did it all the way to high school in school – it was mandatory sports in schools in Finland, and I loved it. I always had leather figure skates, and I wouldn't recommend getting any of those adjustable skates, or inexpensive hard shell ones – poor equipment makes children's feet hurt, and then your money goes all wasted, because they don't want to skate with skates that feel uncomfortable.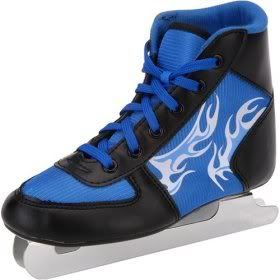 My son is only 4, and he had no interest in skating last year, it actually scared him. For him I would consider the double runners – ice skates with two blades, making it super easy to learn to skate. I wouldn't recommend double blades for school aged children. Older children have better muscles and they will learn faster to skate with regular skates than the little ones, whose muscles aren't as developed. I think these
Bladerunner Zig Zag
skates look pretty cool for a little boy, and they are only 19,99$, the cheapest skates on the list.
American Athletic 512 Girls Figure Skates
are basic skates, inexpensive, and would be perfect for occasional pond skating, but I'm thinking the quality might be so bad, that they will take the fun of skating by being uncomfotable. These skates are vinyl, and I can just imagine how cold they are. But for 24,95$, you can't beat the price, and with kids you never know how many times they really use them. They might love skating this year, or hate it. I probably wouldn't even consider these for taking lessons, but they might be ok for occasional pond skating. If you consider these, order one size up, they run really small.
I buy almost everything online, and it is almost impossible to find ice skates for children in our small town, but these
Girls' Lake Placid Spirit 300 Soft Boot Ice Skates
are even available at Target. It might be worth the trip to go and check these ones out, it is always a good idea to try footwear on before buying. Then again, I am so used to and I love online shopping, it is just so easy with three children… These ice skates are 44,99$. Why I like them: they are made of nubuck, not vinyl, and beat the above ones for sure in comfort.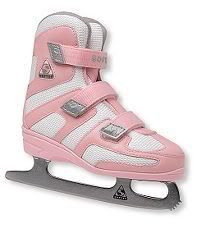 These
Jackson Softec Tri-Grip Figure Skates
are perfectly pink and look is somewhat the mixture of fun skate, but with the figure skating blades. These look awesome recreational skates for starter skaters like my girls. And the quality looks great for 49$. They also have a really easy closure.
CCM "Glitter Girl"
look so much fun, and any girl would love to have them! They are really well supported, and have a molded footbed for added support. It's great that they have support, but my question is, are they too much supported? Read what's the real deal about
arch support in children's footwear
. But these still might be one of my first picks for girls recreational ice skates. I like that they have laces, even though it makes them more difficult to put on – the laces make the skates fit better and it is good to get the kids used to laces, if they want to taking figure skating lessons some day. Price: 54,99$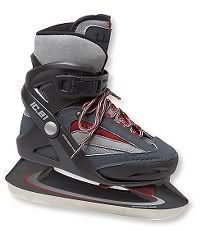 L.L. Bean has really nice looking skates, and these
Comfort Skates for Boys
look just that – comfortable with good ankle support and good insulation preventing the cold. These probably would be my first pick for my son, if I knew he'd really be skating this year. But for 59$ I wouldn't want them to be used only for three times.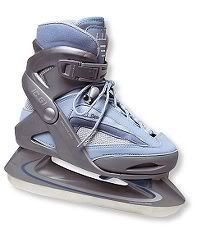 L.L. Bean has the same skate for girls, and while these
Comfort Skates
look awesome, I think at least my older daughter would defenately go more for figure skates than these. These are 59$, just like the boys' model.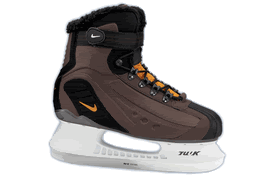 If my son was older, here is the skate I'd buy for him.
Nike Comfort Boot Boys Recreational Ice Skates
look fun, comfortable and sporty. 84,99$
MORE RELATED GIFT IDEAS:


Books are always on great gifts, and there are several great ice skating related books.
–
Slip, Slide, Skate!
(3,99$) is great for some parents too to read. The story teaches that it is more important to have fun than be the best skater.
–
The Best Figure Skater in the Whole Wide World
(5,95$) is a story about a girl, who is just starting to take skating lessons, and sounds like a great story book for my second grader to read herself.
–
Ice Skating School
(5,49$) might be even great for me to read, it teaches the basics of ice skating, and it might make my job teaching kids to skate easier.
–
The Magic Hockey Stick
(5.99$) sounds like a cool book: a girl gets a Wayne Gretzky's hockey stick, won by her parents at a charity auction, and she suddenly becomes the best player on her hockey team. Wayne needs his stick back and the girl faces a big choice what to do.
–
Number Four, Bobby Orr!
(6.95$) and
Gretzky's Game
(10.85$) are part of the Hockey Heroes series, and just great books for little ice hockey fans and players. Based on real NHL players and real stories.
There are several ice skating movies out there!
– My girls' favorite is the Disney's
Ice Princess
, DVD 14,99$
– Whole family might like the hilarious Will Ferrel in the
Blades of Glory
(16,99$ for DVD). It has some adult humor, but at most parts it's OK for school aged kids to watch.
–
The Cutting Edge – Gold Medal Edition (1992)

(10,99$) is a classic, and one of the most popular figure skating movies of all times.
–
Miracle
(9,99$) is a great ice hockey movie, but might be better for older kids.
GEAR:


–
Skate Bag
(19,95$) is good to have to keep skates in better condition. Also the blades of skates are dangerously shrp – the skate bag is a good for safety's sake too.
–
Hard Guards
(7,99$) are must – don't let your child ruin the skates, use the hard guards always when walking with the skates off ice.
Terry Cloth Blade Covers
(6,95$) are good for storaging.
– Helmet is a must have for all little skaters. Bike or ski helmets are just fine as long as there is just skating involved, but for ice hockey, a separate ice hockey helmet is needed.
Knee Pads
are also a great idea.