So there are those among us who look at snowboarding and think "that's easy, I could do that", go and buy a snowboard, and take it to the slopes and look ridicilously handsome carrying the new board around, lookin' almost like a pro.
And then get their butts kicked by some elementary school kids and break their tailbones trying to do the latest thing. Yes, I'm talking about those 30 and 40-something men, who are a danger to themselves, trying too hard to look young and hip. I see this type at the ski resort every day.
Oh yeah, and I'm married to one.
After a few (not so great) attempts at the ski resort last year, Matt took his board for one last try at our yard earlier this winter (pictured!) and finally realized, snowboarding isn't for him. Lucky for me, I got his slightly used snowboard. I though about listing it on eBay, or selling it on a local ski swap, but then I thought, heck, I'm going to try it first.
So this last month I have been gaining courage to give snowboarding a try. I have never skateboarded, or surfed, and the only board I've used, is the ironing board, and even that not so often. And yesterday – I finally did it!
I was terrified, but determined.
I rented a pair of boots and my friend helped me to adjust the board for me. He asked whether I would board with a right or left foot and I had no idea. Couldn't I try a little bit of both? He asked me to imagine that if I would slide on the ice, which foot would be in the front. I couldn't imagine myself sliding on the ice, so I just kept the right foot forward on the board, maybe I will know whether it's the right or wrong once I gave it a try. He also suggested I'd buy a pair of
padded panties
to protect my rear from hurting from falling down, which was unavoidable.
Another friend of mine, a really nice Brazilian girl, who is here just for the ski season, and works at the ski resort, promised to show what she had learnt about snowboarding. I was intimidated to go with "mommy-boarders" who have been boarding for years, and was happy that someone who had just been learning herself was willing to help. Rachel, my friend, first taught me how to fall down without getting hurt. "You will fall down a lot" she said, and now she was the third person warning how difficult snowboarding was and I shouldn't be upset if I was falling down every 30 seconds.
I strapped my other foot on the board, and tried walking towards the ski lift with it. Talk about a work out! I was beat before I was even on the top of the slope! I did just fine on getting to the ski lift. And somehow I managed to get off the lift without falling down, and then limped with the board closer to the top of the slope, and asked myself one last time, was I really going to do this.
I wasn't afraid of the pain, I just didn't want to miss rest of the ski season by getting hurt now. I was fully aware of the
injuries
related to snowboarding, and me.. well, I can get hurt even when
picking up laundry
.
Bravely, I strapped my other foot to the board, and I became one with the piece of fiberglass. Rachel showed me how to stay up by lifting my hand up, and how to turn right by pointing by hand towards right, and how to stop, she even mention something about a J-turn, but I was totally lost by that time.
Once I stood up, and I was standing on the board, the miracle happened.
I felt totally comfortable with the board, and I wasn't anymore afraid of giving snowboarding a try. I couldn't wait to start going down the hill and learn all the fun stuff. I started doing what is called "falling leaves", sliding with the board from left to right and making a pattern to the slope which looks how a leaf falls down. Rachel was trying to make me stop and listen, but I couldn't stop, I forgot how to do it. So I just kept going down the hill, my Brazilian friend yelling "but you are not falling down!" like I was supposed to on my first try.
Yeah baby, I was a natural born boarder!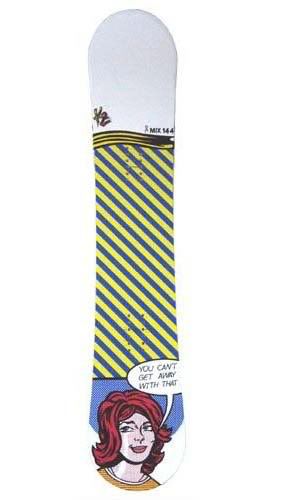 K2 Mix Snowboard
– was 500$ now 150$, wouldn't this look like a perfect mommy-board?
Well, wish I could say I was natural, but that probably would be a little overrated. I don't think I did all that well in general level, but I did impress myself (and my husband). I did about 4-5 runs, and fell down only once. And then I of course had to do a few controlled sit-down-on-my-butt-stops, since I still didn't get the stopping mastered, and a few times I got a little worried because I was going too fast. But those don't count, right?
I think I sort of understood how to do the J-turn too. In the "falling leaves" the bord is parallel to the slope – sideways, not going downhill – and on the J-turn you are going towards downhill and then turning. I was able to do the turn, but not to stop and found myself driving the board towards the right side of the slope. I remembered the lesson "when you point towards left, you turn towards left", but dammit, I was going to the right, super fast in my mind, and that I pointed my left hand towards left didn't do any good to me. Tried stopping and turning, but didn't have a clue how to do them – and to avoid the trees on the side of the slope, I had to put my butt down to avoid the collision.
Unfortunately my binding broke, and I had to stop snowboarding for that day, but I already got the board fixed, and I am hoping to give snowboarding another try, maybe this weekend. I am so proud of myself for trying something totally new and something so difficult to learn. And even if I can't really do it, or will not learn to snowboard well, I am just happy that I had guts to try it.
And I was absolutely awesome for a 30-something mom who's trying to be cool.