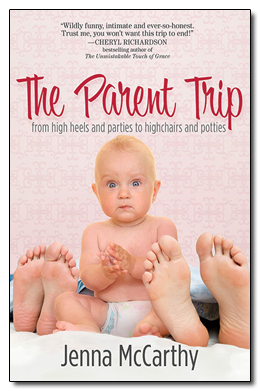 The laugh out aloud funny (I've heard pee-in-your-pants funny..) book, Jenna McCarthy's
The Parent Trip: From High Heels and Parties to Highchairs and Potties
, just came out this week.
When you are looking for a funny book to give a new mom, this one will be The One to pick. Jenna's writing style is engaging, insightful, and did I already say funny..? From hot shot fashion writer and a mom of two, Jenna offers a refreshing view to motherhood.
A short excerpt from the book, Jenna says you should never heat your baby's food because
"when your baby eats food for the first time, she has no idea what to expect. But if you give it to her heated up from the get-go, you're unintentionally creating a warmed-food snob. More importantly, you're up the creek if you're forced to serve it up cold, say in a restaurant or during a blackout."
Available at
Amazon


A few good picks for moms to read.