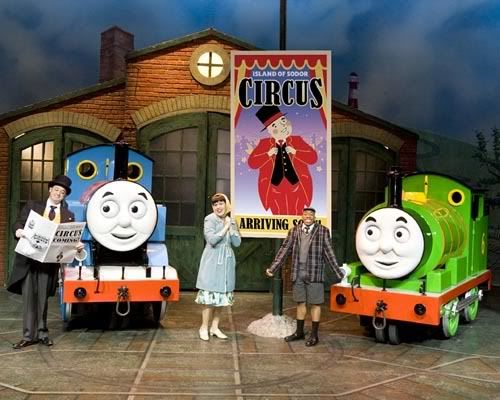 The all-new 90-minute musical adventure
Thomas & Friends™ Live! On Stage:
A Circus Comes To Town
just started it's nationwide tour, and will be visiting 51 cities. The performance is packed with audience singalongs, high-energy dancing and thrilling adventures. What a great new show for little Thomas & Friends fans! What I find the best about this show is that Thomas & Friends Live! partnered with
Autism Speaks
and offers special shows for children with autism and their families, donating one dollar per ticket sold in these performances for the Autism Speaks organization. If you are in LA area, the first performance to benefit Autism Speaks will be on January 31st in Los Angeles. Thomas & Friends Live! took this partnership one step further and they also offer "quiet rooms" where families can take a break and then return to the show. Children can take a break of the show or color Thomas & Friends coloring pictures in the special room, hosted by the local Autism Speaks chapters, which will also provide information about the organization to interested parents. Tickets for most shows will be available at
Ticketmaster
. For complete tour information, visit
Thomas & Friends Live!
or
Autism Speaks
.