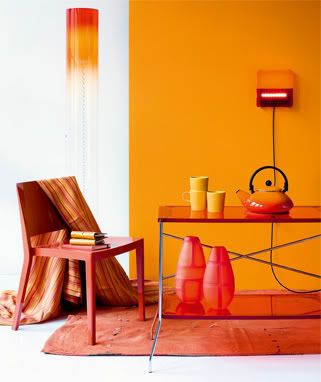 Get some Vitamin C for your home and let the sunshine inside! Orange is such a powerful decorating color that you won't need much to make your home colorful and cheer.
GET IT UNDER 20 BUCKS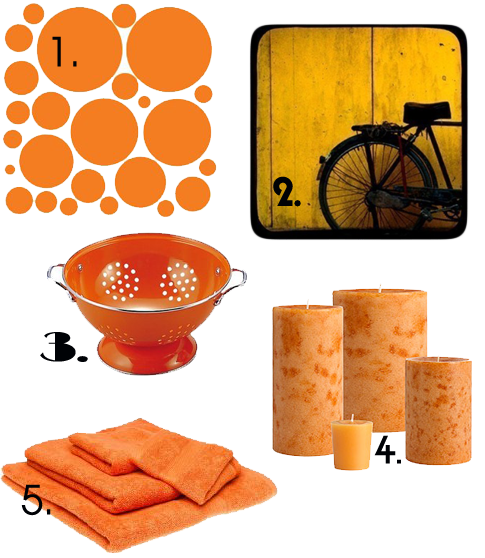 1. Wall decals are fast and inexpensive. Stick them on the wall and peel them off once the new redecorating bug bites you.
Orange Polka Dot Wall Decals
($8.99 for 25) will make a nice color splash for your white walls. 2. Get some inexpensive black frames and change the picture when you change the decorating theme. Use post cards, photos or even wallpaper, gift wrap or decorative papers from craft stores to get your unique look. I like photos, and this bike photo with orange background by
ScarletBeautiful2
($9) really caught my eye. 3. Kitchen is one of the easiest places to decorate by season. Just change towels, get some new pot holders or get the daily utensils or dinnerware in the color of the season and swap them when the next one comes along. I like having colorful everyday items, and this orange
Calypso Colander
(sale price $15.99) looks awesome & gives a nice splash of color on the top of your counter. 4. Get some orange candles, some orange napkins, and fill a glass bowl full of oranges and you have a dinner table decorations in the trendy orange. The
Ember candles
($0.79-$14) are from Pier 1. 5. The same ideas work for your trendy orange bathroom too. Use wall decals, framed pictures and candles to get some orange in your bathroom and finish it with plush new
Tommy Hilfiger Towels
(sale price $7.99).
GET IT UNDER 100 BUCKS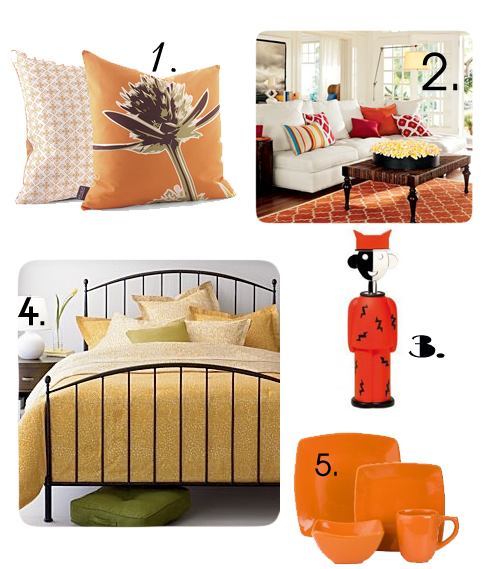 1.
Inhabit Living pillows
($60) bring nice color and get either subtle orange print or the propeller in sunshine print with bolder orange. The best thing is that you can mix and match so many their other products – or just get the pillows to get the trendy orange look. 2.
Moorish Tile Rug in Clementine Orange
(sale prices $79.99 – $99.99) is on sale at Pottery Barn. I am a huge fan of Pottery Barn rugs, and used to stock up when ever I saw nice ones on sale. With three kids and a dog, our rugs get their fair share of use and I have always been pleased with Pottery Barn's rugs. This Moorish Tile Rug would make trendy color statement in almost any space of your home. 3.
Alessi's Alessandro Corkscrew
($88) gives your orange color splash, and pops nicely on your countertop – but when the orange color trend is over, it's easy just to move inside your cabinet and you'll have something fun and functional to keep even after you are done with orange decorating trend. 4. To get nice warm orange in your bedroom, check out
Marimekko Tamara bedding
(sale prices starting at $59.95) at Crate & Barrel – also on sale. The print goes well both in traditional or contemporary homes, and is high quality Marimekko. 5.
Lucero 16-pc. dinnerware set
($44.62) is inexpensive and brings nice color to your kitchen and dining. The orange dinnerware set is available both at Walmart (cheaper) and Target, so it's really easy to find. Photo: Tuomas Kolehmainen, gloriankoti.fi