We officially kicked off summer this weekend with hot dogs, picnic and family fun. Oscar Mayer wanted to treat my kids some hot dogs and I sneaked in with the FLIP camera while my husband Matt was cooking the hot dogs. Check out the video – and yes, the Oscar Mayer jalopeno hot dogs were good, and had a nice to kick to them. (BTW, See Matt's t-shirt? Our 6 year old son Kris designed it for him at the Hanes Design-A-Tee store.)
On Saturday we headed to Picnic with a Purpose, hosted by Liz of
Mom 101
and Emily of
The Motherhood
in a beautiful park in New Rochelle. The picnic was so much fun, seeing all old blogging friends like
Amy
,
Beth
,
Barbara
,
Isabel
and
Carol
, and meeting new ones like
Liz
,
Paula
and
Elise
and
Betsy
and… all of the others!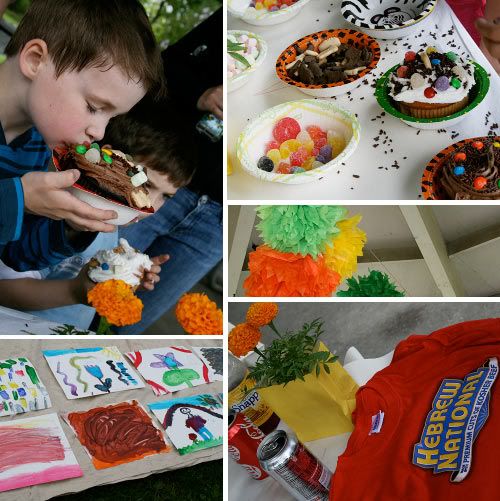 The kids had a blast playing with other kids, the hot dogs and cupcakes were yummy, and the best of all of the fun was that we all together collected some goodies for the boys of the
Abbot House
, a social service agency helping abused, neglected and abandoned children and their families in the New York area. Thank you Hebrew National for sponsoring the picnic and for Liz and Emily for hosting it and working so hard (hoping Emily will post her orzo salad recipe it was so good!). I would also like to thank Walmart, ZonePerfect, Kellogg, Hanes, Subway and several other companies who send me products to review (or promotional products), and make it possible for me to create a cool gift basket for the boys by donating the products. Blogging is good, but blogging is better when you can do it with a purpose to spread sunshine online or in person. Stay tuned, and next week I am able to tell you about my Oscar Mayer hot dog event I am hosting at the West Point Military Academy honoring soldiers right after the Memorial Day.