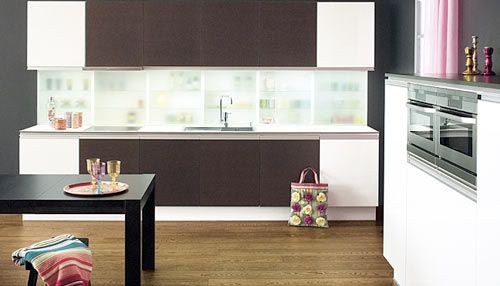 I wanted to share a few photos of Scandinavian kitchens with easy tips how you can get the Scandinavian look to your kitchen. Use neutral colors, lots of white, earth tones, stainless steel and then selected items with bring colors to pop from the more neutral surroundings. The kitchen photos are all from Finland, where I am from, and the styles and ideas here represent the Finnish kitchen styles. The product finds are not all from Scandinavia, but are great and inexpensive substitutes to get the look.
(picture: Irja Koivula)
My favorite feature of Finnish kitchens is a dish rack inside a cabinet, on the top of the sink, called
tiskikaappi
. The dish rack is normally simple wire rack, with open bottom of the cabinet, and you can lift all the washed dishes inside the cabinet to dry and drip down to the sink. This leaves more space to your counter and your dishes are hidden behind the cabinet. I have chosen the kitchen pictures in this blog post to include the
tiskikaappi.
STORAGE
But if you find
tiskikaappi
a little odd or you don't have a cabinet on the top of your sink that you could turn into one, here are a few Scandinavian style storage ideas for you.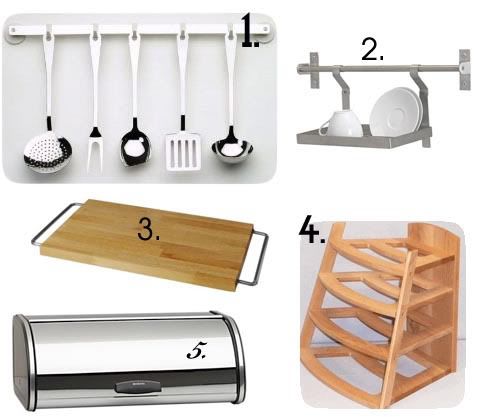 1.
Alessi Jasper Morrison Kitchen Utensils Set
($115) is Italian, but many Scandinavians love Alessi and this utensil rack is a common sight in modern Scandinavian kitchen. Stylish but functional for daily use. 2. Grundtal wall rack from
IKEA
($10.99) is a great small rack you can get the Finnish feel to your kitchen. 3.
Domsjö chopping board
($14.99) isn't really a storage element, but I love it and added it here for its multi-purpose. This chopping board fits perfectly on the top of your sink and you get more counter space – and you can hide dirty dishes under it! 4.
Swedish Designs'
, Horizontal Skillet Rack Beech ($62.00) is made for skillets, but I love the look and have it on my counter top and storage plates on it. Beech always has a Scandinavian feel, but also comes in different woods. 5.
Stainless steel bread box
($39.95) from Crate & Barrel looks something many Scandinavians have. Many Finnish kitchens are small, and extra storage is always welcome. This bread box style is a design element and very functional piece of modern Scandinavian kitchens.
ACCESSORIES
Bring the color in with accessories but keep the style still modern. Use essential kitchen tools, and things you can use every day to brighten the look if you want to keep the uncluttered modern Scandinavian look in your kitchen. Finnish people love designer glass wear, and you can find
Arabia
and
Iittala
from almost every home.
1.
Marimekko Tea Towels
($25/per set of 2) are linen/cotton mix, and give a nice hint of color to your kitchen. The
Pakkanen
and
Pikkunen
patterns are designed by Maija Louekari for Marimekko. 2.
Iittala Kivi Votives
(starting at $12.75) come in variety of colors – collect one or two colors or get them all and change by the seasons. 3.
Iittala Pepper Mill
($59.50) is high quality, stainless steel, and looks modern and stylish – oh yeah, and it also has the every day function as a pepper mill. 4. Small appliances you use every day like espresso machine are proudly displayed on the counter top – and they blend in the modern design look. I like stainless steel appliances, but if you are like many Finns, you might opt for white appliances to blend even more to the white kitchen.
Alessi Toaster with bun warmer
($198) is a great choice, offering impeccable style and function. 5. Marimekko's
Unikko
pattern is a loved (modern) classic in Finnish kitchens.
Marimekko Oven Mittens
($17) bring your Scandinavian style kitchen nice splash of color. 6. Alvar Aalto is the most known Finnish architects and designers and his vase collection is also known world wide – and loved in most Finnish homes.
Alvar Aalto Mini Bowl
($20) is the least expensive one, and small enough to bring joy on your countertop in a daily use. If you really want to make a statement, get the largest size and use it as a fruit bowl – and tulips in an Aalto vase is a Finnish flower arrangement I'm used to seeing since I was a little kid.
Kitchen photo sources: Puustelli.fi Sundsberg.fi vaasa.tvtalo.fi