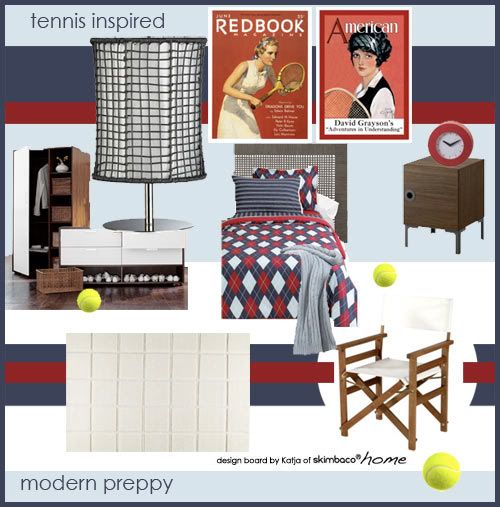 After we moved and now live right next to a tennis court and we were at US Open last week, I am really inspired by tennis. It's been too hot for me to play (and other excuses) but tennis inspiration means that I've been wanting to buy some Lacoste shirts and argyle sweaters. And scout for tennis inspired home products… While I think tennis inspired home decorating is at it's best when vintage style, I wanted to create a modern preppy style tennis inspired room. The bed and the bedding are available both for single and double players, so it is up to you to make this room for one or two. Also, this design is gender neutral (different posters might work better then), and would be perfect for siblings sharing a room.
COLORS
I used navy blue and light blue for the walls, lighter base color and navy for thick stripes. You could also use stripe wall decals to get some contrast on the walls. Red is great accent color, and so is dark brown (the furniture) and white. With red, white and blue basic room design it is easy to change the theme to something else too, that's such classic color combination.
BEDDING
I adore the
argyle Lacoste bedding set
, it comes with comforter, standard sham, flat sheet, fitted sheet and pillowcase. A cable knit throw gives the bed and the room the preppy tennis look, Lacoste and
Ralph Lauren
(pictured) have great basic throws, that go so well with the tennis look.
FURNITURE
The Sova bed from
CB2
with handwoven natural rattan headboard gives the room nice tennis feel – whether it reminds you of the net or the racket. I also found natural rattan storage baskets that fit in the Harmonica Wardrobe and dresser leaving the storage baskets visible – great for those tennis shoes and tennis balls! The Casa table lamp is also natural rattan weave finishing the same look. The lamps look great on the
Engan nightstands
from IKEA.
The traditional director's chair brings in the vintage charm and the white cover lightens up the room a little too. The red LACK shelves from IKEA are perfect for trophies.
FLOOR AND WINDOWS
Dark hardwood flooring and white rug would be ideal, I love the contrast of a white rug on dark floor and it would fit this room perfectly. If you have light colored carpet, I'd recommend a contrasting it with a darker rug. Since the walls already have purple, and the furniture is dark, I'd match the wood tones with natural blinds and contrast them with sheer white curtain panels. Also a white roller roman shade would go nicely.
ACCESSORIZE
Bring in some color with accents like the red alarm clock. The vintage tennis posters I found combines the vintage tennis look and the reds really pop up from the light blue walls. You can find vintage tennis posters online – or you can frame your own tennis pictures to bring your personal touch.