When you think of coastal style, and beach cottage, you are easily drawn to crisp white and different tones of blue and navy blue. Beach cottage style doesn't have to mean nautical though, and you can draw colors from a different palette. Even if you bring in the nautical or beach style – you can do it in a new color palette. I love the beach cottage bedroom we had in our Rockport, Mass, rental. The yellow walls bring sunshine in, and the striped quilt on the bed is cheerful and colorful. The furniture is cottage style white, and contrasts nicely with the wall. The decorations are non-mistakenly beach style with the sea star pillow and a nautical table lamp, but the room doesn't scream beach house to you, it simply whispers and the mermaid on the wall lures you to relax. Simple seashell jewelry box on the dresser and the white wicker furniture bring in the beach feel – without over powering it.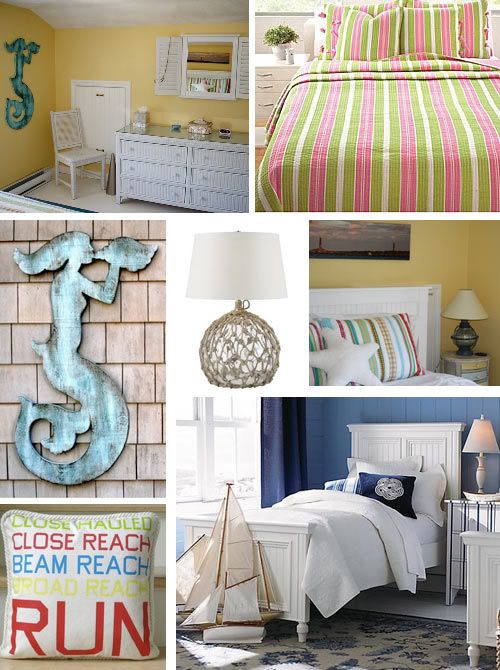 The
Striped Quilt
from Overstock doesn't look nautical, but does say beach cottage, when you combine it with right bed, like the
Southport bed
from Basset, and a sailing term pillow from
Bumble Belly Designs
from Etsy. The
mermaid scultupre
brings the ocean in to any room, and the
Japanese float table lamp
is en elegant beach style lamp to bring a touch of seaside into your room.