Bring fall inside! I already featured my
fall inspiration this year: birds and trees
and I love those also in the bathroom! These are some of the great items that I have already bought or I dream of buying for our bathroom. We live in a rental apartment in New York, and the dream of our new home keeps me from making any big changes to our apartment. And besides, I have grown to love the white walls, and the high ceilings and the loft. Our home looks like a Scandinavian home from IKEA catalog with a hint of Marimekko and I'm fine with it. At least for now. The best about having a blank canvas is that you get to change the look easily with only a handful of new things!
10 Products for Fall Bathroom
1. I love the tree with birds wall decal from LeenTheGraphic'sQueen. Wall decals are great for changing the look fast, and especially for seasonal decorating.
2. Jewelry tree is a great way to add a decorative yet functional piece in your bathroom. It can also be easily dressed up according to different seasons and different colored jewelry and accessories and jewelry to match the fashion colors of your clothing and your room design. I love the modern jewelry tree I found in Finland in the top picture but this more delicate from Bed Bath and Beyond is cute too, and inexpensive for about $20.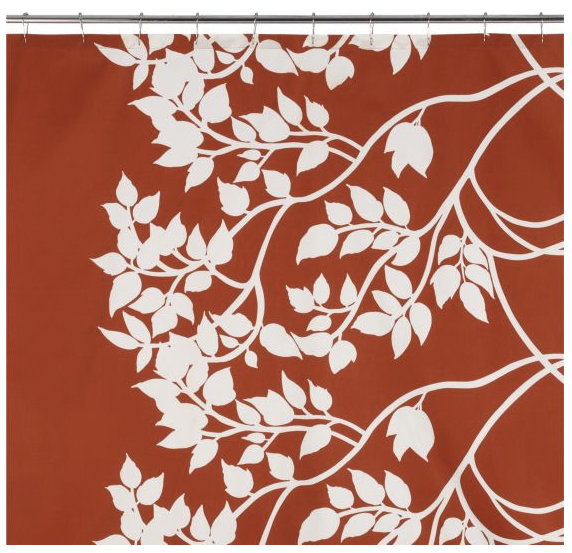 3.I love Marimekko's Madison shower curtain ($50), designed by Maija Isola. I have it in grey with matching towels, and they really make my otherwise simple bathroom very cute. I think I will get the persimmon towels next, they'd add nice splash of color! 4. I have started being more daring with rugs – and realizing that rug can be IT in your room. I like Twinkle Living rugs, and especially the deer rug would make a statement in the fall time bathroom. 5. If you don't have enough countertop space in your bathroom, or it's too small for new furniture, consider wall shelving. I got the inexpensive shelves (in the top picture) from IKEA and my husband helped me to mount them on the wall, and I couldn't be happier. This fall it is OK to mix cold steel and warm wood, and these shelves give a nice contrast if you bring warmer wooden accessories in.
6. The bathroom accessories are from Luhta from Finland and the small round jewelry box is Iittala's Piilo, also from Finland. Currently they are not available in the US, but I bet the jewelry box will be soon. I also like Iittala's Vitriini Collection's jewelry boxes (below), available in several colors at Unicahome. Sourced materials: 
www.bathroomcity.co.uk/products/baths/whirlpool-jacuzzi-baths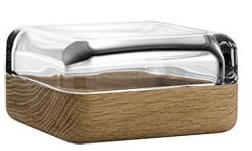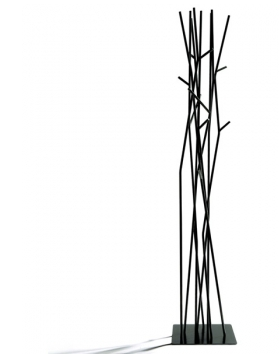 7. Mikko Laakkonen's Latva (tree top) coat rack is perfect for towels and your bathrobe – and to bring a modern look in your bathroom. While the $690 price might be too steep for your bathroom, think of this as a design object and a practical addition to your bathroom – or later on in other rooms in your home. Think how much fun you would have decorating with this for years to come.
8. If that goes too modern for you – and the price is too much.. Try bringing more traditional tree motive in your fall bathroom with this cute mirror with a lonely bird sitting on the its tree branch. It's from Anthropologie for $148. 9. Anthropologie also has nice selection of candles, and I found really cute bird candles from Potter Barn, but while they are pretty to look at – I recommend scented candles in the bathroom.
10. And nothing beats a hot bath on the fall! Treat your self with Philosophy's trick or treat bath set ($20) with pumpkin spice muffin and caramel apple shampoo, shower gel & bubble baths. Learn to think outside the box and how you can bring items in your bathroom that will give the seasonal look – but also will be out of the room by the time the season is over.