If you are looking for an easy lunch or dinner idea, try open face vegetable sandwiches. They are simple and fun to make. If we are having company, I like to prepare a platter of vegetables, lay out different cheeses, spreads, breads, and let everyone build their own. If it is just us, I usually fix up whatever veggies we have on hand. For this particular sandwich, I used grilled eggplant, squash, tomatoes, red onion, and lettuce. I brushed the vegetables with balsamic vinegar and grilled them inside on a grill pan. I cut thick slices of rustic Italian bread and spread hummus on each slice. I layered the vegetables on top and sprinkled each sandwich with feta cheese and salt and pepper. Open face vegetable sandwiches make a great meal. Serve them with a bowl of hot soup or a nice green salad. Get creative and use your favorite veggie combinations. The choices are endless! Get the entire family involved and let them build their own. These sandwiches are fun to make and eat. Enjoy!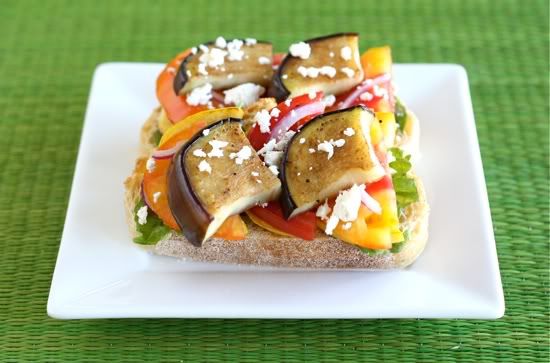 Open Face Vegetable Sandwiches
Bread-cut into slices (French, Italian, Hearty Whole Grain-make sure you use a thick bread) Spreads-hummus, mustard, mayo, pesto, etc. Cheese-mozzarella, provolone, pepper jack, feta, etc. Vegetables-eggplant, squash, peppers, tomatoes, lettuce, mushrooms, cucumber, onion, etc. Salt and pepper to taste 1. Prepare vegetables. Slice and grill or roast the vegetables. You can enjoy them fresh as well. 2. Take a slice of bread and add toppings-spreads, cheese, vegetables, etc. 3. Season with salt and pepper and serve.
Written by Maria Lichty, Skimbaco's Healthy Lifestyle & Vegetarian Food Expert. Maria Lichty is the co-creator of Two Peas and Their Pod, a successful food and recipe website. Maria and her husband, Josh, are known as the "cooking couple." They make a great team in the kitchen and love sharing their recipes with the world. Maria is also passionate about health and wellness. She has a degree in health promotion and enjoys helping others make positive health behavior changes. In her free time, Maria also enjoys traveling, exercising, reading, and spending time with her adorable nieces and nephew.