Coastal Living is one of my favorite magazines, and I am so excited of the Coastal Living and Stanley Furniture partnership with Coastal Living furniture collection. I lived on the coast and spent my childhood summers on a boat, and there is nothing that I like more than the ocean and the coastal way of living. I will live on the beach, one of these days… If you have ever devoured the homes in the Coastal Living magazine, and wanted to get that look into your own home, you will love the Coastal Living Collection by Stanley Furniture.
COASTAL STYLE COLORS
When it comes to coastal style of home decorating, there are as many "coastal styles" as there are coasts! "My" coastal style is simple, white and blue, with wooden furniture and stripes, with old fashioned nautical elements. The East Coast coastal style combines bold red, white and blue but the beach houses in South Beach are decorated in pastel colors – you get the picture. And this is probably the most admirable part of the Coastal Living Collection – when they designed the collection, they took every coast in consideration and created furniture all of the styles in mind.
COASTAL STYLE ROOMS
The Coastal Living Collection has two separate collections, the Resort and Cottage offering furniture with tropical vibe with woven elements and traditional cottage style pieces in crisp white and bold red. Both collections have furniture and accent pieces to bedroom, dining room, home office and living room. Here are more pictures from the collection. Enjoy!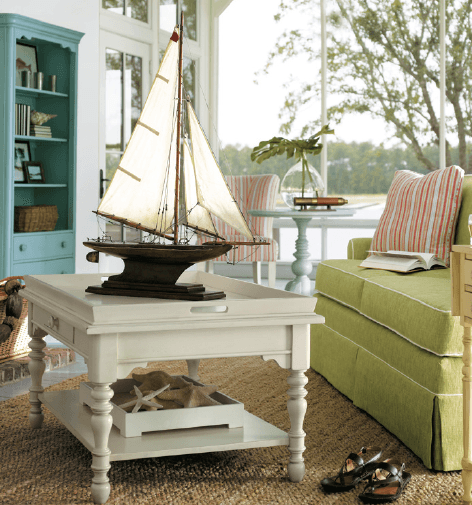 Photos: Stanley Furniture