Photo: from the video below
Our family's story
As you may know my husband served in the military and we met while he was stationed overseas in Europe, and he did total of three overseas tours, one in Korea, and two in Germany, and was deployed in Kosovo during the time our first daughter was born. My husband is still contracted at the West Point Military Academy as a site manager and a functional test pilot for their VIP helicopters. I know something about the military life, and how hard it is for the members of army, and the families of those who are serving our country. We currently have my husband's cousin's son Ryan deployed overseas. If you want to hear how war effected on this young lieutenant's life when two of his soldier's committed suicides, and how his parents Jeff and Sandra Presnal took action to give support to soldiers needing help and started
Armor of God Military Ministry
, please watch this powerful video where Ryan is sharing his experience in Iraq.
Bring a Taste of Home to our Troops and Support the USO
Please join me in supporting our troops with a very simple act: by clicking and sharing a link. This summer, from Memorial Day til 4th of July it is very easy to show your support to our troops with a very simple act:
view the new Taste of Home Flag Cake Recipe and the magazine will donate 10¢ to the USO for each unique visitor up to $100,000.
  Taste of Home partnered with the USO to provide a simple way to say thanks to our military and their families by donating 10¢ for each unique visitor to their new Flag Cake recipe on the
magazine's website
– by clicking now, you are making a difference.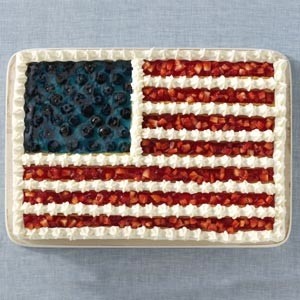 The USO is a private, non-profit organization, not a government agency, and are supported by donations and corporate sponsorships and partnerships. The USO (United Service Organizations) lifts the spirits of America's troops and their families millions of times each year at hundreds of places worldwide. They provide a touch of home through centers at airports and military bases, entertainment and innovative programs and services. More importantly, they also provide critical support to the service members, including forward-deployed troops and their families, wounded warriors and their families and the families of the fallen. Sharing the the Flag Cake recipe is a simple way to support our troops, and
with your ONE click and that one recipe view will provide a full two minute free phone call from a current service member overseas to home.  Every $1 raised provides 20 minutes of talk time for service members
.  When you are able to hear the voice of a loved one for two minutes or twenty minutes, the value of those phone calls is impossible to measure.     Kelli Seely, SVP of Development at USO emphasized the importance of a simple thing as providing the means of communication:
"The USO does all that we can to maintain and deepen the connection between troops and their families. Communication works wonders for the morale of the troops and for their families back home. There's no such thing as too much communication between troops and their families. We think the partnership with Taste of Home is a great way to lift the spirits of our troops and provide America such an easy, fun, and delicious way to support the troops,"
How to help more
You can also
donate to USO
directly on their website and if you want to support the Presnals'
Armor of God Military Ministry
they would be thrilled to have donations to support their ministry giving help for the soldiers in their local area in Texas.