We ate Nova Scotia Dulse and had tea with Alice
I just got back home from a Disney Cruise from New York to Canada, and it was the first Disney cruise to Canada and I loved the change of scenery compared to Bahamas, where I've been with Disney before. I love Bahamas and the warmer weather – but this was such a great alternative and a new experience and our first time visiting Halifax and St. Johns. While it may sound that Disney and Canada are not that exotic, but during our trip we discussed a lot about "firsts" and trying new things, and the cruise truly inspired us to think outside the box and it was an adventure to us. Disney offered us one very unique adventure: having tea in an enchanted garden with Alice from Alice in the Wonderland. Our travel group came home with many memories and many "firsts" – and many of them included tasting new foods in the Disney restaurants on board! Escargot and caviar were among the foods my travel mates tasted the first time, and my personal first was dried Nova Scotia dulse – a seaweed that they collect from the sea and dry and eat the same way as you'd eat potato chips. My favorite new foods though were the desserts I hadn't tried before in the brunch buffet at Palo, the adults only dining experience on Disney Magic.
Live a little: taste new foods
In today's live a little I encourage you to taste new foods.
Sometimes living life to the fullest can be as simple as giving your taste buds a little surprise. And the same way as we didn't have to go further than Canada to experience something new, you don't have to go far to experience a new taste. Try a new dish in your favorite restaurant, or try a new recipe at home. Combine two common ingredients together in a new way to create something more "exotic". Explore the local grocery store isles looking for new products you may not have seen before – or go to a new grocery store and find something you don't even have in your normal store. Try the imported food aisles, the new restaurant in town, the dishes you can't pronounce and give a try to foods you think you'll hate for sure. It actually might be love at first bite. You'll never know unless you take the bite.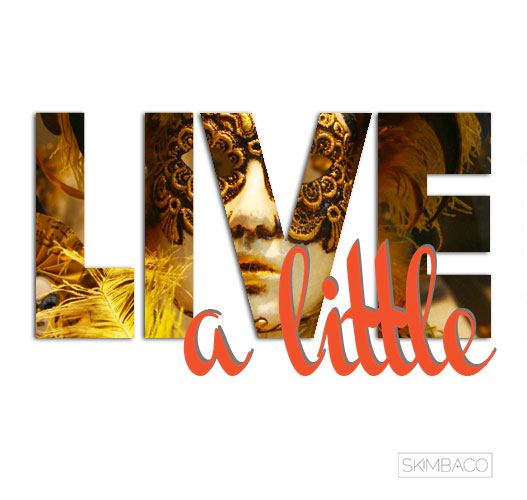 Your turn…
Participate to Live a Little blog hop! Write a blog post how you "live a little," what's your small way of living life to the fullest and add your blog post to the InLinkz widget above. Rules: Link either to Skimbacolifestyle.com, OR
get the InLinkz code
for your post – or do both! If you post the widget in your blog post, please add these rules as well. You can also find
Live a Little banners here
, and use them in your Live a Little blog posts. Disclosure: we were on the Disney cruise as guests of Disney, but we love Disney and my opinions can't be bought.