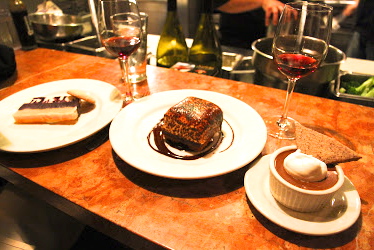 Sonoma Valley Wine.. and food!
Sonoma Valley is known for its great wine. Recently,
Tripadvisor named Sonoma County the #1 wine destination
in the United States and among the top ten wine destinations in the world. Pretty impressive, don't you think?
What goes best with fantastic wine? Well, fantastic food, of course!
Having been fortunate enough to live in Sonoma Valley for the last 13 years, I have eaten my share of great food. Here are the top ten favorite places I like to feed myself in Sonoma Valley, in no particular order. And I added in one extra restaurant located in Napa Valley, just over the hill from Sonoma; it's been my favorite for nearly two decades. From cheap eats to moderately high priced restaurants, there is something here to please every palate.
1. Harvest Moon Cafe
is a small, intimate restaurant located on the plaza in downtown Sonoma. The first word that comes to mind when I think of Harvest Moon Cafe is fresh. Everything is the freshest it can be and homemade. Even their can't-keep-your-hands-off-of-it bread is made daily onsite. I like to sit at the table facing the kitchen and watch the chefs prepare the meals. Be sure to save a little room for desserts. Instead of sharing one dessert,
my husband and I shared three on our last visit
!
2. VJB Vineyards and Cellars
is a little piece of Italy in Sonoma Valley. Recently, VJB opened their new tasting room to rave reviews. More than just a winery and tasting room, VJB has an outdoor wood burning oven where they make pizzas, ribs, and other mouthwatering dishes, a small market with a cold case full of Italian salads, cheeses, salamis and more and a gelato shop. Buy a glass or a bottle of wine in the tasting room and enjoy lunch on the patio. You'll think you're in Tuscany!
VJB Winery, Kenwood, Sonoma Valley
3. Downtown Bakery and Creamery in Healdsburg
is where I go to treat myself to the best croissant in the U.S., in my opinion. It's hard to come close to the perfectly flaky and buttery croissants found in the boulangeries of Paris but that's exactly what Downtown Bakery has done. Enjoy breakfast or lunch, counter service only, or choose one, or maybe two, of their outstanding pastries and enjoy it in the park across the street. They also sell homemade ice creams and sherbets, pies, biscotti, a variety of breads and cakes. Right on the plaza in Healdsburg, Downtown Bakery is a great place to grab a quick breakfast before hitting up the wineries in Dry Creek or Alexander Valley.
4. Della Santina's
is where I like to take visiting friends for dinner. Family-owned and operated, Della Santina's offers a traditional Italian menu including house made pasta and braised meats. Their terrific wine list features California and Italian wines. Stop by the adjacent Enoteca wine shop for a glass of wine from their very international wine list while you wait for your table. The staff at Della Santina's will come and escort you to your table when it's ready.
5. Tacqueria La Hacienda
offers cheap but good quality Mexican food in a colorful, friendly, and clean atmosphere. With sit-down or take-out service, La Hacienda is my favorite place for enchiladas, burritos, fajitas, tacos and chile rellenos.
7. River's End
not only has deliciously fresh food but the views of the Pacific Ocean and Sonoma Coast are stunning, especially at sunset. Bring a jacket with you, even in the summer months, so you can comfortably enjoy a glass of wine or a cup of hot tea on the patio before dinner. In fall and winter, look for whales out in the ocean. See more photos of the ambiance at the
River's End
.
8. Doce Lunas
is a gem of a restaurant located in downtown Kenwood. Friendly owners Alex and Jackie have created, as they phrase it, a rustic, relaxed and refined establishment. The menu offers a variety of cuisines from around the world and is always something interesting and tasty. Save room for Alex's signature dessert, sticky toffee pudding. Your sweet tooth will thank him!
9. Spud Point Crab Company
is just a little shack-like place in Bodega Bay where the best clam chowder around can be found. Creamy and full of clams, a bowl of chowder goes well with their simple yet very satisfying fresh crab sandwiches and homemade crab cakes. Get there early if you want the crab cakes as they sell out fast. Eat there at their outdoor picnic tables overlooking the Spud Point harbor or
take it to go like my husband and I like to do
.
10. The Girl and the Fig
is the best known restaurant on this list and for good reason. Proprietor Sondra Bernstein opened her restaurant 15 years ago and it's steadily gained in popularity ever since. Conveniently located on the plaza in downtown Sonoma, The Girl and the Fig is a great place for fine cheeses, fine wines, and creative entrees. My favorite dish is the big bowl of Price Edward Island Mussels steamed in Pernod and served with grilled sourdough bread.
11. Rutherford Grill
is located in the tiny and affluent town of Rutherford in the Napa Valley. Rotisserie and grilled meats and vegetables are their specialties. Rutherford Grill combines the casual vibe of the wine country with the sophistication of elegant surroundings, great service and top notch food. I've been a patron of Rutherford Grill for nearly 20 years. I have yet to have anything but a superb meal and attentive service.
I hope you've enjoyed my series featuring a wide array of things to do in Sonoma Valley, other than taste wine. Our region offers so many things to do for
the shopper
,
the outdoorsy type
, the
cultural connoisseur
and the foodie. The possibilities are as vast as your imagination!