prAna is an ancient Sanskrit word which is often defined as pure energy, vitality of the spirit and most notably breath.
Like I've told before…
prAna clothing
is pretty popular in
my neigborhood
.
I went shopping last week and I have to say.. all I wanted to buy was prAna clothing for myself! Maybe I've been stuck in the Rockies for too long, or it is just the lack of shopping possibilities, but I admit, now I am a huge prAna fan.
The clothing is beautiful and practical and there are so many other reasons to love prAna: they use sustainable materials and work hard to reduce the impact of manufacturing on soils, water supplies and other natural resources. They are a member of the Organic Trade Association, and prAna is continually increasing the use of organic cotton, as well as sourcing other natural fibers and innovative recycled/upcycled materials. They also have a
Natural Power Initiative
to promote the use of green energy.
Some of my favorites…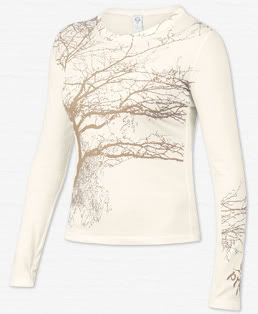 Tree Branch Jersey
, 36$, is made of organic cotton.
Pom Pom Sweater Hoodie
, 85$, is also made of organic cotton, and it is so soft! I love pom poms and the stiching details. I would love to wear this after a day of skiing.
Eva canvas pants
, 65$. So soft, and perfect cut! I like the tan color for the spring too.
Red sweater vest
, 65$ just has my name written all over it. I don't care what they say about redheads shouldn't be wearing red, I love red.
Herringbone Capri pants
, 60$, are probably my favorite. They are so soft, and the detailing really cute and I like the red contrasting stiching. The photo doesn't do justice, these pants are awesome.
You can shop for prAna at premier online stores or
find it
from several retailers world wide.