Tropical Beach Vacation on Pinterest
This week's theme in our Global Mappin Pinning event is Tropical Vacations! We will be pinning about tropical vacations, what to pack and where to go all week long in the
Global Mappin board
. We partnered with
Great.ly
this week to highlight some of the products from the makers of Great.ly. Have you heard of Great.ly yet? They connect individual makers with tastemakers who can curate their own shop. Check out the
Skimbaco Shop
for my favorite finds. I decided to highlight some of my favorite products to get the tropical beach vacation feel for your vacation home or at home – even if you are not going anywhere this summer! Join us on Pinterest this week, and enter to win prizes from Great.ly!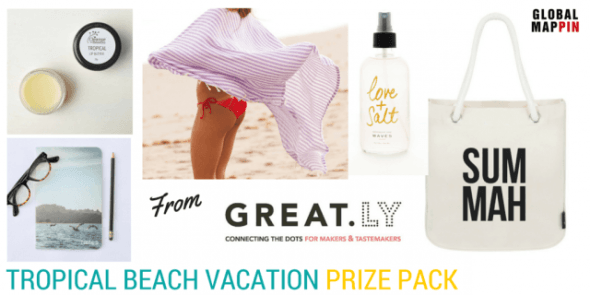 Get details here,
and shop for these products in the
Skimbaco Shop
.
Tropical Beach Vacation – at home!
It is truly easy to get the summer feeling at home with a few small accessories. Get my six quick tips for getting the tropical look for home and shop for these highlighted products at
SkimbacoShop.com
.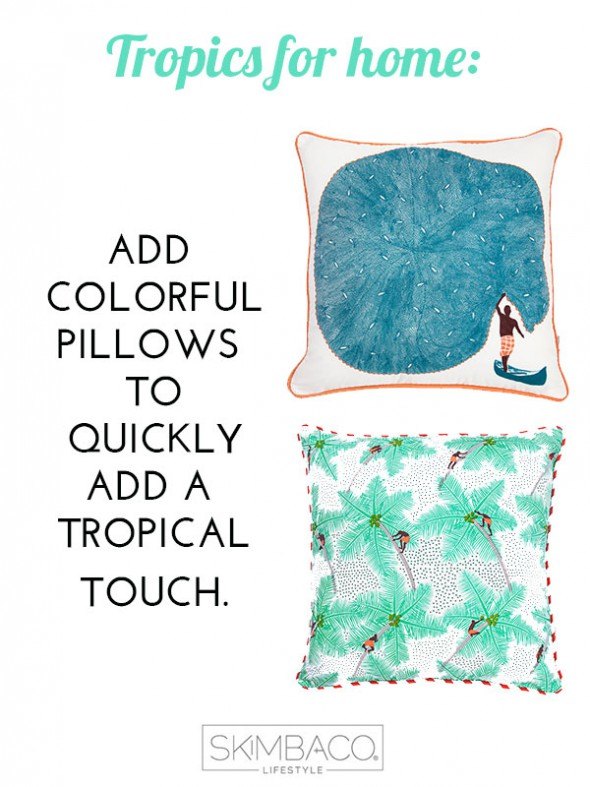 The super fine, intricate hand printed illustration on this cushion cover features a fisherman's net, cast out to get the catch of the day. This reminds me of Beruwala beach in Sri Lanka. Turn it over to see the fun orange fish print pattern on the reverse. Shop for
Catch of the Day cushion cover
($87) A combination of gorgeous fresh greens with a pop of bright orange, the fun palm trees print on this cushion has been inspired by scenes of men climbing to pick coconuts in Kerala, South India. Reversible, the other side features a mint green illustrated pattern of woven palm leaves. Shop for
Coconut Palm Pickers cushion cover
($87)
Add tropical fresh cut flowers in a vase or add succulents to bring a tropical touch for your home with plants that are easy to take care of, even if you hang out at the beach or pool most of the summer. Hand-turned cork planters designed for desert plants such as succulents and cacti. Cork is naturally porous making it an ideal material for plants. Each planter has a shellacked interior and finished on the outside with a natural beeswax. Due to the nature of the material each planter and unique and one-of-a-kind. Color and size might vary. Shop for
large cork planter
($75)
Art prints are the easiest way to add tropical punch of color to your home.
Desert Agave
in 8 x 10 inches $37.
Palm tree print
in 30×40 inches $375.
I love collecting smooth rocks and seashells from my beach trips! I display them in glass vases or wooden bowls. I love this beautifully refined wooden bowl, it is carefully hand dipped in a simple and modern crossed color pattern in Sage Green. The colored portion is a soft rubber which makes them durable and non-slip. The wood is left natural. Shop for the
walnut bowl
($56).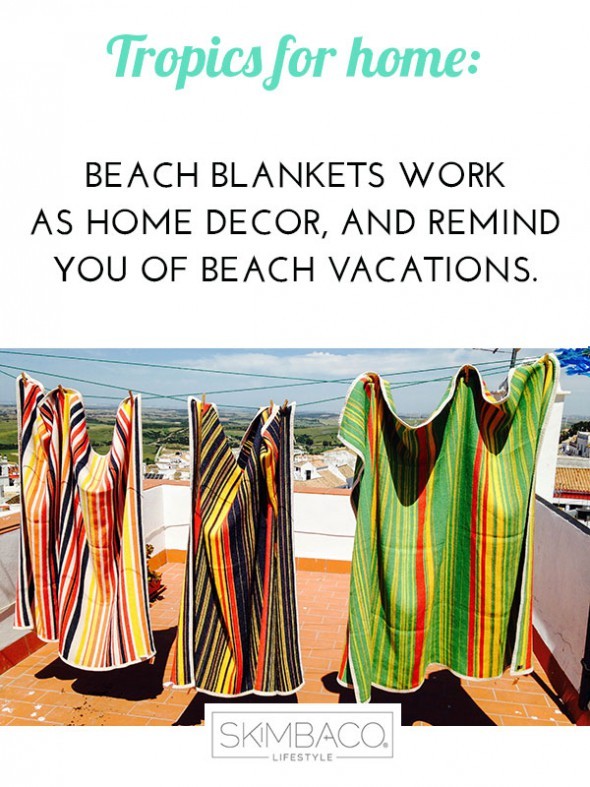 I have very minimal living room with all white furniture – it is easy to add color and change the seasonal look with throw pillows and blankets. The Pablo summer blankets work great as beach or picnic blankets, or even as towels, but are heavy duty and stylish also in your living room all year long. Greens mix with vibrant stripes creating the Pablo blankets and towels for your hacienda or simply your balcony. This blanket/beach towel is inspired by love of cotton jacquard weaving, mixing up colors and styles that are at home both inside or outside – beach, park, pool, sofa or bed – the choice is yours. Perfect as a towel or a throw! Shop for
Pablo summer blanket
($149).
If your summer plan is to spend as much time outdoors as possible – make it easy to leave the house for summer fun! Add storage baskets for small items like sunglasses, sun lotion, and pool pass, and larger storage baskets for summer totes, flip flops and beach towels. These will help you to stay organized and get out of the house for summer fun as fast as possible! The handmade crocheted vessel is made from thick and robust natural twine, with contrasting trim in either orange or black. The
largest size
is $81 and 13.7″ in diameter. The XXL round storage basket will make a beautiful touch for your cozy home! Leather straps give an elegant & classy look. %100 handmade fabric basket is really great to get organized & stay neat. You can use fabric baskets for so many different things. Shop for the
Geometric Round Storage Basket
($122).
Post by Katja Presnal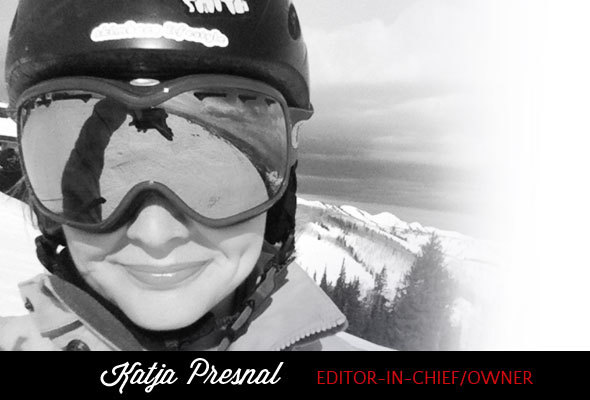 "My mission is to inspire you to live life to the fullest and find your own "skimbaco," how you enjoy life where ever you are in the moment. For ideas for travel, home, food and fashion,
subscribe to weekly Skimbaco Lifestyle
feed on Mondays and
I hope you get my newsletter
that I send out sometimes on Fridays."
Katja Presnal
, editor-in-chief and the owner of Skimbaco Lifestyle.
Let's connect!
Visit Skimbaco Lifestyle (Skimbacolifestyle.com)'s profile on Pinterest.