Bridesmaid dresses by Kathlin Argiro
My sister-in-law is getting married this May. Yay Lauren! We are all so happy for her and Greg, and are really looking forward to the wedding in Texas this spring.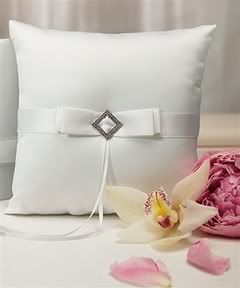 Ring Pillow, 35,95$
My girls are going to be the flower girls and Kristian is honored to be the ring bearer. Kristian (5 years old) was a little worried about the honor first and finally one day he confessed and said he might not be able to be the ring bearer since he didn't have enough money. I didn't really get it, and he said he had seen an ad on TV (this was around Valentine's Day) saying stuff for ladies start at 399$ and every kiss begins with K.
The poor thing had thought he had to buy the wedding rings! Now he is back on being very excited about the important job at Aunt Lauren's wedding.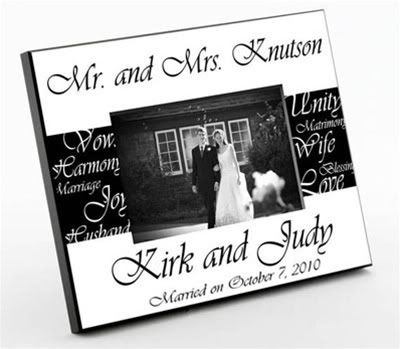 Personalized Wedding Photo frame, 34,95$
The bride and the groom have made up a wedding registry at the
Knot
– are you familiar with Knot? It's a pretty cool site, a lots of wedding information, shopping and best of all – the bride and groom can set up for their own page with details of the wedding, even post a story how they got engaged and with links to different wedding gift registries.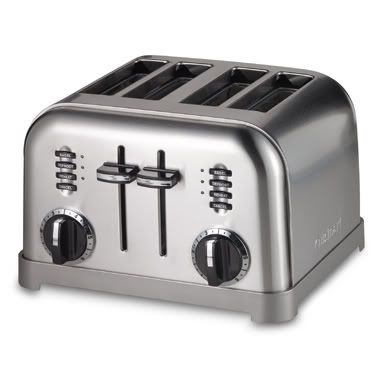 I know you want this Toaster.
I am so excited about this wedding, I know my sister-in-law will be the most beautiful bride ever and I can't wait to see everybody walking at the aisle. My girls with the flowers, my father-in-law with Lauren and of course cute little Kris carrying the rings. My hubby is a groomsman, and this will be the first time I'll see him in a tuxedo (see, he used to be in the military, and always dressed in the dress uniform if we had a special occasion), yay, you hottie!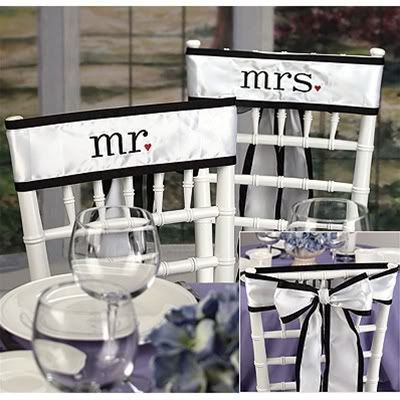 These are kinda fun chair sashes
I've been invited to a special bridal lunch the day before the wedding and I want to get a gift just for Lauren. Sure it would be great to give something classy, but I'll probably end up getting something fun like sensual massage oils and panties embroidered with her hubby-to-be's name. Hey, I need to keep up with my "crazy European" reputation, don't I?

Personalized undies, 21$




Just Married Shorts 29,95$
I will write a lot more about our trip to Texas and about the wedding, and also feature my own designer dress, jewelry and shoes and all that good stuff. Just stay tuned this spring!