I rarely look back on time and ask myself "where did the time go". Because usually my life is full of adventure, new places, new people, new events and it never seems to be still. I like it that way. I like it that I take changes and try new shortcuts (and get lost and find something unexpected) or make fast decisions to do something fun. My family is my constant, my anchor, everything else is a moving scenery I enjoy. I turned 35 last week. I had some medical testing done to see how well I am doing with my broken lungs on my birthday. And the first time I was thinking, where did the time go. I think I was just afraid to hear bad news. There are days that I feel old just because how much I have seen of life, of world and of people. Some days I feel very young, and I never want to give up on that "young" feeling inside me, that let's me joke, take things lightly (at least not dwell on things if not able to be taken lightly) and see world as a constantly evolving place of unexpected beauty. I try not to live in past, and almost more important is not to live in the future. You know, live in "then when". (Like: "Then we will travel to Europe when our kids are older", "Then I'll treat myself a nice haircut when our car is paid off", "Then I'll quit my job and be a stay-at-home-mom if I get pregnant again"). I wonder if those times ever come to people. Sure, there are things I wish to do in the future, but if I focus on them too much, I'm afraid I loose today. (No, I didn't hear bad news last week. Well, no news actually. You know how they are, they never give out your test results, you need to wait to see your doctor. I will have my appointment later today.)
I was at the Blissdom Conference in Nashville last week too. I was there with Collective Bias and one of our clients, CoverGirl, and we organized a professional makeup,
CoverGirl's Smoky Eye Look
for Blissdom attendees. Considering how many women we absolutely thrilled to get their makeup done, especially right before they got to meet Harry Connick Jr, I would say it was a huge success. I had a blast!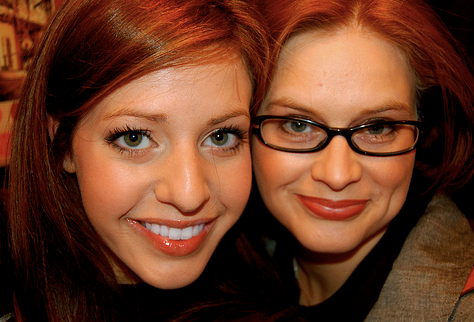 Erika Lehmann, Chic Shopper Chick, is our face for the CoverGirl Smoky Eye Look and she took this picture of us two.
And I have to admit, I loved working on the other side of the table – creating something fun for bloggers, instead of being on the receiving end as a blogger. I really realized how much more I love supporting other bloggers, helping them and promoting them – than doing that for myself. I don't want to be a superstar blogger, but I want to help others to be that. I am not ready to give up this blog yet, I love writing here, but for the first time for a long time, I don't feel pressure to do this-and-that to my blog. I like it as it is, and continue doing what I like to do with it, not what "I should". I rushed home on Saturday. My flights were cancelled due (upcoming) bad weather, so I took the first flight out on Saturday that I was able to and changed my route and was home already on Saturday evening. And was able to go skiing with my family at Hunter Mountain at Catskills on Sunday. While I somewhat felt I betrayed my blogging tribe by doing so, I knew it was the right thing to do. As days go by and years go by, my anchor in life is my family, and that always comes first.