by Karen Walker & Peter Som
Much to the chagrin of Peta advocates everywhere; fur was the common denominator throughout most shows at the Mercedes Benz Fall 2010 Fashion Week. Indeed, designers placed furry details everywhere; there were coats, vests, muffs, bags, hats, belts, and epaulettes—even footwear! Don't throw the paint just yet, though; many designer's consciously used faux-fur for their fall 2010 collections. The craftsmanship was so spectacular in fact, that it was often impossible to separate the faux from the real-deal. Fur for fall 2010 truly made an impact by presenting itself as a versatile piece in nearly every show. From downtown hipster chic to sleek sophisticated professional to nearly everything in between, fur was the pièce de résistance. Fur from Karen Walker's fall 2010 collection served as dramatic flair for the designer's darling vintage looks. A shift dress in dusty floral print worn over a super fluffy sheepskin vest played perfectly into Walker's vision for the Bob Dylan and Sound of Music inspired styles. Other fur accents were seen in detachable sheepskin collars that decorated velvet and tweed coats for a cozy look. Both hip and playful, Karen Walker's fall line was for those who like to have fun with fashion. After a few years away, Peter Som made his return to the Mercedes Benz Fashion Show with statement making furs and a wild abandon for matching prints. For his fall 2010 line, the designer threw together a cacophonous mixture of florals, checks, feathers, tweed, knits, metallics, fur and Swarovski beading, to show a wildly eclectic and surprisingly, glamorous line harkening back to a 1940's era. Most of Som's vibrant furs in bright blue, pink and turquoise were made from Mongolian lambs wool– a material popular with designers as an acceptable alternative to more controversial coats. Another fun look was a plum fur chubby worn with a yellow tie-front blouse and full leg trousers. In a time when most designers are seen moving to versatile palettes of black, tan and gray, Peter Som defiantly rejects this idea of conservatism by adopting an anything goes mentality. The fall 2010 line did more than just give us inspired dressing, it sent a message: An economy shouldn't curb consumers taste for expressive clothing, nor should it be allowed to put restraints on designers' creativity. While it wasn't quite the second coming, it was definitely a revolution.
Vena Cava
At Vena Cava, the girls prepared for a weekend away with a downtown meets uptown personality. Fox fur carried the fall 2010 line with a vintage edge and a tinge of uptown luxe. For New York's Mercedes Benz Fashion Week, the duo created a new woman for the outdoors. A ruffled skirt and ribbed turtleneck showed nicely under a forest ranger hat and fox hair stole. Double points were awarded for a fur trimmed army green parka worn with black high-waisted culottes, fishnet tights and retro glasses. Unlike Peter Som, the fur for Vena Cava was seen as natural accompaniments to the sporty looks. Although a relatively new team, Sophie Buhai and Lisa Mayock, showed once again, they know what girls like.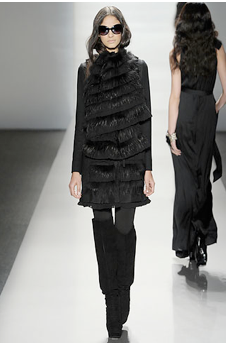 Elie Tahari
For those of you unable to name the cast of gossip girl, or without a swank, lower east side address, the next looks are for you. Elie Tahari exemplified a well-traveled woman with looks that were a bit daring compared to lines from past seasons. Known for clothes that represent a modern sophistication, Tahari introduced youthful trends– mainly those of fur-lined coats, vests and bags– to revitalize the company's timeless pieces for fall. Serious looks in all-black, leather and fur took over the first half of the show followed by more relaxed styles in copper, gray and orange. The colorful fur and silk ensembles that were seen in the second half, showed the designer's ability to evolve edgier pieces into styles suitable to his conservative customer. Black motorcycle jackets with fur collars and sleeveless knee-length fur vests were among a few of the designer's big looks for fall 2010.
Helmut Lang
Coveted outerwear at Helmut Lang was nothing new. The designer's ultra-hip minimalist style offered looks that were compatible to any wardrobe. The show began with an understated rabbit fur coat, representing the show's theme for subtle luxury. In other designs, fur was used mostly as an accent to more structured and streamlined pieces. The furry details showed on draped lapels of vests and motorcycle jackets, thick neck collars and Robin Hood-esq head coverings. Timeless with a hint of attitude, every look had investment piece written all over it.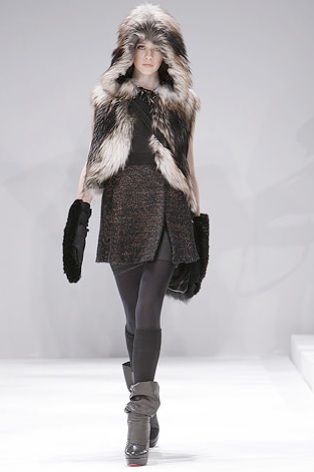 J. Mendel
Finally, a discussion on fur wouldn't be complete without mentioning J. Mendel. For his fall 2010 line at the Mercedes Benz Fashion Week, the designer, Gilles Mendel, strived to place elements of nature within a downtown scene. A few instances of this appeared in a natural muskrat and raccoon asymmetrical vest; a pecan dyed fisher, black raccoon and ranch mink messenger bag; and finally, a bleached silver fox hooded vest. Choosing to create styles that were textured and light, the designers at J. Mendel achieved a look that was glamorous without being overbearing. Embrace your wild side and add fur to your wardrobe for the fall 2010 season.
Written by Skimbaco Lifestyle Fashion writer Hallie McKay. Hallie also writes for the Seventeen Magazine.