Photos: Blanc de Chine runway, Jous Jous Earrings, Paul & Joe Runway, Natalie Portman at Oscars red carpet, Talullah Tu Bow Tassel Earrings, Platform tassel shoes from ModCloth, Philosophy di Alberta Ferretti silk tunic.
From the red carpet to the runway, tassels are everywhere. Tassels are a definite trend for spring 2011, but tassels are nothing new, tassels originated thousands of years ago and throughout their history were used as symbols of status: both military rank, and religious order. This spring tassels have little to do with either, and I will show you top ten ways to wear tassels and embrace this trend, first five ways to wear tassels today and five more tomorrow. And no, the famous tassel bra did not make the list, but go for it if you feel like it – life is too short not to embrace all sorts of things that make you happy.
Ann Taylor is all about the tassel trend
. A few words of warnings with the tassel trend. Don't go tassel crazy, a little bit goes far. Even if you have several tassel accessories and shoes and a bag, don't attempt wearing them all at the same time. Also, while tassels are trendy right now, this trend might be gone in a year or two, and tassels will make you look outdated, so think of this when making purchases; that's why I have collected here several inexpensive products to enjoy the trend.
1. TASSEL NECKLACES
Tassel necklaces are probably the most popular of the tassel trend. Go either short statement necklace or longer with just one tassel.
Flequitos Necklace
($32) has nice black and fairly small tassels, this is a great choice to embrace the tassel trend if you don't want to go big. The extra long (and large)
Ann Taylor Statement Tassel Necklace
$68 is fun and bold and will pop from any outfit. If you like the look but want something a little bit simpler, I like the
Rainfall
($92) by Marquis & Camus.
2. TASSEL BRACELETS
I love bracelets and filling your wrist with bracelets and a statement watch is so trendy right now! Tassel bracelets are a fun way to be trendy and show your individual style, but to be honest I had hard time finding cool tassel bracelets that were affordable. Here are three that have a great fresh look for the spring. The
chain wrapped stone bracelet
($39) from Talbots would look great both with day or evening outfit, and I like the stones and the modest chain that's almost like a tassel. Like more earthy?
American Eagle Outfitters
($15.50) has this turquoise tassel bracelet that will jazz up an every day outfit with jeans and a simple top, and it's super cheap too. For evening wear and to dress up a little black dress I like the
Isabel Marant
($80) bracelet. It's romantic and dressy enough for night, but also will work with a more casual outfit.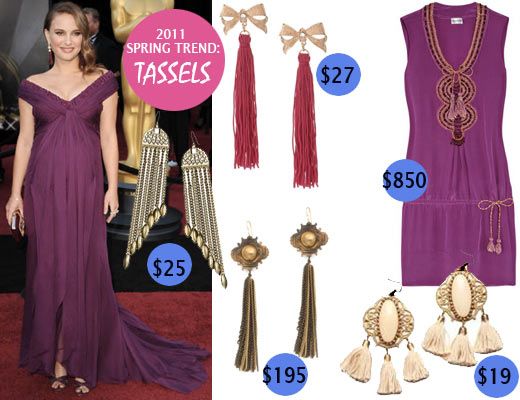 3. TASSEL EARRINGS
Many celebs have been spotted wearing tassel earrings, and most recently Natalie Portman at the Oscar Gala.
Talullah Tu Bow Tassel Earrings
are probably the closest of the earrings Natalie Portman wore at Oscars, and unfortunately they sold out literally in the front of my eyes while I was still editing this post. I like the little less pink versions of the tassel earrings and here are a two gorgeous pairs. The
Lt. Camus
earrings are gorgeous, they combine vintage look and today's trendy tassel, but are $195. If that's too much for you, check out the
Pharoah Statement Tassel Earrings
instead for $25. And if you really want to embrace the tassel trend – the
Vanilla earrings
from Jous Jous are everything but vanilla, and only $19. Want Natalie Portman's look for casual spring and summer events? The gorgeous silk tunic with tassels by
Philosophy di Alberta Ferretti
($850) gives it in an instant.
4. CLASSIC LOAFERS
Is there anything classier than a loafer with tassels? I can't believe I am saying this but I am almost craving for a pair of tassel loafers for the spring. If you like this classic look, it will go beyond this spring's tassel trend, and I recommend investing in a good classic pair of loafers. Like the
Cole Haan Collection Megan Loafer
($378), made in Italy of the softest leather. If you are not sure this will be your look for longer than a few seasons, check out the
ASOS Madge Leather tassel bow loafer
only for $62.76.
5. HIGH HEELS, PUMPS
There is nothing like high heels. If you like the classic loafer look but want to make it dressier with high heels, the
GRAZE Black Suede Tassel Crepe Heel Loafers
($128) are a great option. But if you don't want a safe pick, for the same price you could get
Jeffrey Campbell Mary-Lou Ivory Suede Tassel Front Hidden Wedges
(on the left) that are absolutely gorgeous and shoes don't get trendier than that. The
Eye in the Sky Heel Jeffrey Campbell platforms
($144.99) are somewhere in between – great also with pants and go from day to evening. The best deal for a very sexy and trendy tassel high heels are the
Colin Stuart Tasseled Ankle Wrap Sandals
($98) from Victoria's Secret (also pictured below), they come in several different beautiful dyed suede colors, have 4 1/2 inch heel but a platform. I also like the
Guess GW Amel Zip Front Tassel Sandals
($177.51).
Stay tuned for Part 2!