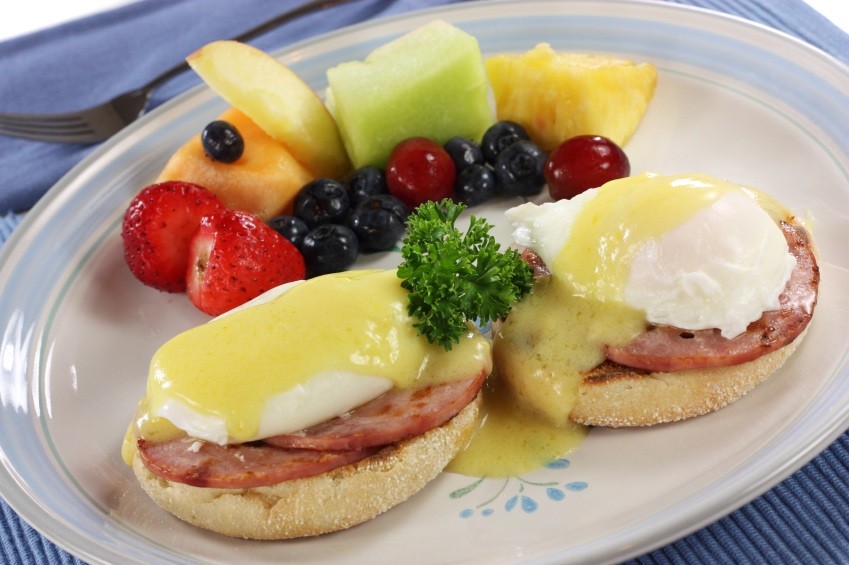 Did you know that tomorrow is the National Eggs Benedict Day? If you want to celebrate this rather silly, but yummy national holiday, here is a recipe for traditional Eggs Benedict recipe and a new ideas how to make it new. Even if you don't want to celebrate the National Eggs Benedict Day – the Eggs Benedict is perfect for upcoming Easter and Mother's Day brunch as well. Thanks to
The Motherboard's
lifestyle expert Maureen Petrosky for these two recipes. You can find Maureen sharing easy and fun recipes on The Motherboard. Maureen trained as a professional chef (she's been a Food Network judge too) and has been a guest chef on a range of national TV shows, including NBC's Today.
Guilt-Free Eggs Benny
Ingredients:
2 eggs 1 light whole wheat English Muffin 2 slices Canadian bacon 1/4 cup fat-free plain yogurt 1/2 teaspoon dry mustard Kosher salt and cayenne pepper, to taste 1 tablespoon lemon zest for garnish 1 tablespoon chopped fresh parsley, for garnish 1 tablespoon white vinegar Non-fat cooking spray
Instructions:
1. In a large pan coated with non- stick cooking spray, brown the Canadian bacon over medium heat. Remove from the pan and keep warm. 2. In a small saucepan, over very low heat, combine yogurt, dry mustard, and season with the salt and cayenne pepper, whisking continually until warm. Be careful: if you overheat, your yogurt will curdle. 3. In a pot of boiling water, add the vinegar and reduce heat to a low simmer. Crack one egg into a small bowl and very gently add it to the simmering water. Repeat this for the second egg. Simmer for 3-5 minutes until the egg is completely coagulated and the yolk looks slightly opaque. 4. In the meantime, toast the whole wheat English muffin. Assemble by placing the toasted muffin on a plate. Top with a piece of the Canadian bacon, a poached egg, and then top with the yogurt sauce. Sprinkle lemon zest and chopped parsley over each egg. Enjoy.
Seafood Frenzy Eggs Benedict for 6
Ingredients:
12 eggs 1 to 2 tablespoons white vinegar 6 English Muffins unsalted butter, for spreading 6 tablespoons Philadelphia Cream Cheese 12 spears of asparagus, cut in half and steamed 1 package of Knorr Hollandaise Sauce 1/2 lemon, zested and juiced 1 can lump crabmeat, divided into 12 portions 12 large slices of smoked salmon 12 cooked and completely peeled large shrimp sea salt and freshly ground black pepper to taste 12 dill sprigs, about 2 inches long
Instructions:
1. In a small bowl, prepare the hollandaise according to the package instructions. Add the fresh lemon juice. Reserve. 2. In a large pot of boiling water add the vinegar. Turn the heat down to a low simmer. Crack the eggs one at a time, into a small bowl and add them one at a time very gently into the simmering water. Cook for 3-5 minutes until the egg is completely coagulated and the yolk looks slightly opaque. Remove from the water. 3. Meanwhile, toast the English Muffins and butter when warm. Top the butter with a smear of cream cheese. Top each with two pieces of asparagus. Top the asparagus with a scoop of crabmeat and a piece of smoked salmon. Place the poached egg on top. 4. Top each with a shrimp and drizzle with the hollandaise. Season with the salt and pepper. Garnish with the dill and the lemon zest. (Serves 6)