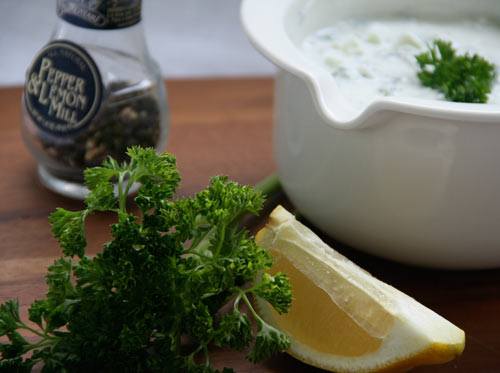 Have you ever made tzatziki before..? If you have you know that most recipes require draining the yogurt in cheesecloth or paper towel. Well, who has time for cheesecloth.. ? And even the paper towels that claim they are sturdy might not always be, and I was determined to create a tzatziki recipe where I could skip this step, and the
Fage Greek yogurt
is thick enough that you don't have to strain it. I love Greek food, and tzatziki is one of my favorite dipping sauces and I absolutely love Gyros with it. Traditional tzatziki is made with chopped dill or mint or both, but one of my trips to Turkey I had it with curly parsley, and I loved this twist on traditional tzatziki. I also sometimes add chopped red onions just because I like onions so much, but they don't really belong to tzatziki. Sometimes I even add chopped Feta-cheese, depending which dish I am using the tzatziki for. I also add lemon pepper, because that's my favorite spice in the world, but traditional tzatziki doesn't call for pepper either. So you can play a lot with this recipe, just don't substitute the yogurt, lemon, garlic and English cucumbers. Tzatziki is great as a dip, we love
Stacy's Pita Chips
the best with it, but it's also great as a sauce for many foods, like Greekburgers, the Greek style hamburgers we make – recipe coming tomorrow, and you will not want to miss it!
Tzatziki Recipe With Parsley
Ingredients: 2 7 oz containers of Fage Greek Plain Yogurt 1/2 English Cucumber 1 lemon 2 garlic gloves 1/4 red onion curly parsley lemon pepper salt Directions: 1. Squeeze the juice of one lemon and add in a bowl. 2. Mince garlic and red onion to small and add to the mix. 3. Add two containers of Greek plain yogurt and if you are using different brand than Fage, you might want to strain it a little to get the excess water off. 4. Cut the cucumber in four parts length wise, that makes it easy for you to cut the seeds and the core out. They make the Tzatziki too watery and you want to cut the middle of the cucumber out. I usually just wash the cucumber well and not even peel it, especially if it's local and in season. Cut the cucumber in as small as you can. Some people grate it or put in the food processor, but I don't recommend it, then you will have to strain it. I just cut it in very small and then add to the yogurt mix. 5. Add fresh chopped parsley (or dill or mint) and season with salt and lemon pepper if you wish.