This crocodile photo caught my attention at Facebook. Not just a picture of the crocodiles, but the accompanying text and the resource who posted it. The photo is from Lacoste's Facebook page and they wrote
"With the "Save Your Logo" program, Lacoste has committed itself to protecting endangered Alligator and Crocodile species around the world. Lacoste's latest project aims to support the release and breeding of the Chinese Alligator in Anhui province, China."
LACOSTE Protecting Endangered Alligator and Crocodile Species
I love the idea of Lacoste not just raising awareness of endangered alligator and crocodile species, but also taking action to preserve them. I wanted to learn more what this "Save Your Logo" program was and I was pleasantly surprised! LACOSTE has been using the crocodile as a logo for over 75 years, and is the international brand the most clearly associated with crocodiles. Tennis champion René Lacoste's nickname was
the Crocodile
because of his tenacity on the courts, and the famous tennis champion had an idea in the late 1920s to embroider a crocodile on the shirts he designed and the first LACOSTE crocodile polo was born. Now LACOSTE it is actively supporting projects selected by the GEF (
Global Environment Facility
) in cooperation with the
Fond de Dotation pour la Biodiversité
to safeguard or protect the endangered crocodile, alligator, caiman or gavial species, whose loss would jeopardize the biological balance of their natural habitats. LACOSTE is helping to conserve biodiversity and protecting these species. Some of these species are now reduced to just a few individuals for example Alligators in China, Gavials or Crocodiles of the Orinoco River in the Amazon. All of this is made possible by
LACOSTE's partnership with Save Your Logo program
.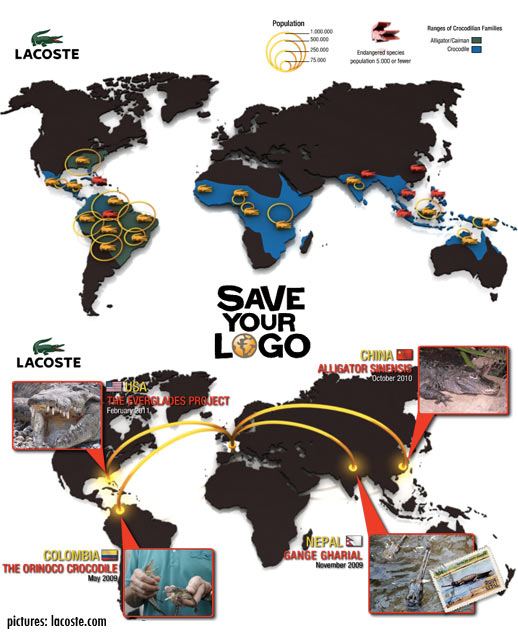 Save Your Logo Program
44,000 species threatened on our planet, with at least 1 bird in 8, 1 mammal on 4 and 1 frog on 3. It has been estimated that 15 to 37 % of all species are doomed to extinction by 2050 unless wide scale conservation actions and effective measures are taken quickly and sustainably.
French
Save Your Logo
program's idea is very simple: more than 300 large global companies, like Lacoste, have chosen symbols of biodiversity as logos and use an image of animal or plant species that are or will be threatened. Save Your Logo help brands whose logo contains a symbol of the biodiversity (animal or plant) in the species preservation that has contributed to their success by providing support action to conserve biodiversity. Lacoste with its crocodile is a prime example and so is Save Your Logo's other partner brand MAAF Assurances's Dauphin. Other examples are the Lion of Peugeot and the MSN butterfly. Today only a handful of companies have partnered with Save Your Logo. It is the 1st global initiative in biodiversity involving public and private funds, with institutional partners such as the Fund for the Global Environment Facility (GEF), World Bank and the International Union for Conservation of Nature (IUCN). It sounds like a great program, and I am hoping to see more companies to sign up with it Save Your Logo. On the marketing perspective I like how the conservation is focused on each brand's brand equity, to the actual animal or plant in their logo.