Social bookmarking site Pinterest is a sizzling hot topic where ever you look, and most likely you too have an unhealthy addiction looking at pretty pictures on Pinterest hoping your life would look like the pictures. Let's be honest, it's porn for design-deprived and craft-challenged uninspired desperate housewives and for fashionista-wannabe office rats, it's where we all dream one day making all of those craft projects and cooking the recipes. And we all love it and admit our weakness to the mighty Pinterest.
3 Things Pinterest Users Should Do Now
1. Join Pinterest and get your desired username and URL
Join Pinterest and get your desired username and URL for your
alternative account
. No, really, this tip is also for YOU who has been using Pinterest for a while. If you have an online brand, blog, nickname or heck, maybe you are getting married (or divorced) soon and will change your last name, get your alternative name as well. You CAN change the profile name later on, but you can't change the URL of your Pinterest page, and two people can be on Pinterest with the same first and last name (with different URLs).
Don't get brandjacked like Starbucks
or have someone else impersonate as you.
I have been using
Pinterest for Skimbaco
for a while, but also took the
Katja Presnal page on Pintrest
to protect my name. Remember that Pinterest requires you to link via Facebook or Twitter, so you will have to link an account you already have to get your second account. I don't recommend just getting bunch of Pinterest accounts, but only to protect your name/brand name. You can easily even create two completely identical Pinterest accounts by adding the new account as a user to your existing boards. I don't see much value in that though.
2. Check Your Profile Page
Pinterest updated their site last week, and the profile pages have a new look. You might want to rearrange the boards in the order you'd like them to be, and rewrite your bio, some longer bios were cut off during this update and now you can only fit a short bio in your profile page.
Read
step by step instructions how to rearrange the boards in your Pinterest profile
, it's not difficult, but if you have a lot of boards.. you might want to read my tips from last week.
3. Make Pinteret Inspiration A Reality
Most likely these two are among your top ten reasons to be on Pinterest: 1. Pinterest is fun & great way to spend time 2. Pinterest is a great resource for things to do, make, bake, buy, knit, eat..
Now click to YOUR OWN Pinterest profile page and stay away from everyone else's pins and choose something that you would like to DO to spend your time instead of being on Pinterest. I know you usually use the search, or look at your friends pins, but this time we are not wasting our time to look at new stuff. Look at the inspiration boards you have already created and the things that are in your multiple "want to" lists.
Maybe you have pinned a dream travel destination – start making plans how to make that trip happen. I know you have recipes — use one. Yes, TODAY, and if you don't have ingredients, go to store and buy them! Have a fitness inspiration board..? Are you still reading this? GET OUT of here and work out!
You got the picture: stop just looking at the pictures and start living your Pinterest boards.
Make YOUR life as amazing as your Pinterest profile page looks and I guarantee you will feel even better than after an hour pinsession.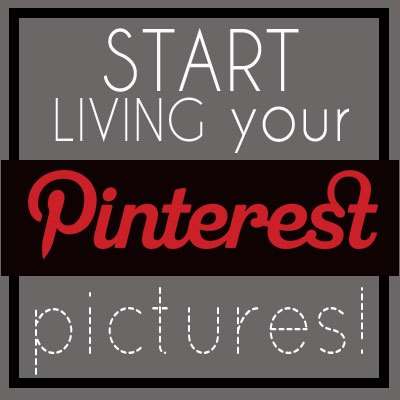 Even though I use Pinterest a lot for Skimbaco and blogging purposes, I use it as much or even more for personal use. For example I have a travel board of
places where I want to go
and I am trying my best to move the photos from there to the
places I've been
board. This week while you are reading this… I am on our
trip to Italy
so I can see the beautiful places I've seen on Pinterest – in real life.