Disclosure: Sponsored post.
Great baking requires great ingredients – and great appliances
Quality appliances matter. Just ask the woman who has lived in 20 addresses, and used everything from the bottom of the line old appliances to the top of the line dreamy modern appliances. I have a few favorite brands of appliances, and LG is one of them. I love to cook, and I love to cook big family dinners, and the houses where I've had a double-oven have a special place in my heart. Truthfully, cooking is still easier to do with a less stellar stove top (I prefer gas range as well as cooktops, following
Cooktop Hunter reviews
), but baking without a good oven is so much more difficult! To prove the point: in my most read apple cake recipe I have gotten tens of comments how the baking time is not exactly as in the recipe. It is true — because it is impossible to write down an universal baking time for some of the most delicate cakes, pastries and cookies. It truly depends on the oven you are using. If you love baking — make sure to check out the newest LG ovens and read more below about the technical details. But first — let me tease you with this amazing Black Forest Cake recipe, all from scratch, and for those who truly love baking!
Black Forest cake recipe
Rich Chocolate Cake Recipe (makes 3 x 8" round)
300g (10.58 ounces) of 70% cocoa dark chocolate 475g (16.76 ounces) margarine 12 eggs 3.4 cups or 729 g (25.71 ounces) caster (super fine) sugar 300g (10.58 ounces) plain flour 45g (1.59 ounces) cocoa powder 2 1/4 tsp baking powder
Syrup
½ cup water 1/3 cup sugar 3 tablespoons kirsch or cherry brandy (optional)
Cherry compote
1 can cherries, drain and reserve juice 2/3 cup cherry juice from above 2 tablespoons kirsch (optional) 1 tablespoon cornstarch Heat juice and cornstarch until thickens. Mix in kirsch and cherries. Cool
Chocolate tree decorations
200g (7.05 ounces) Compound dark chocolate or tempered real chocolate Pipe trees onto non-stick baking paper Instructions: watch the video.
LG Ovens New Line Up
LG recently released a new lineup: a 7.3 cu. ft. Electric Double Oven, a 6.9 cu. ft. Gas Double Oven Range, and a 6.3 cu. ft. Gas Single Oven Range. Also included in the lineup is the advanced 6.3 cu. ft. Electric Single Oven. These freestanding ranges have LG's ProBake Convection technology, which is normally found in commercial ovens, and distributes heat more evenly. While conventional ovens emit heat from the bottom causing items placed on the lower racks to burn, ovens equipped with LG's ProBake Convection radiate heat from the back wall of the oven in order to distribute heat more evenly and deliver dishes that receive uniform and professional-style cooking, which is so important, especially when you are baking. LG's ProBake Convection is seven times more powerful than conventional ovens. Furthermore, the presence of the Dual Fan Speed Convection system not only allows dishes to be cooked considerably faster but you can also customize heat output on a dish-by-dish basis to create optimal culinary results. For example, precise baking is optimized on a low fan speed and speed roasting is enabled through the high speed setting. Helping save even more time, the addition of the Speed Roast Cooking function means that oven pre-heating is no longer necessary to achieve quick, delicious results. The LG freestanding ranges also boast the largest cooking capacities in the industry, making it possible to cook multiple dishes at the same time (think Holiday cooking!). Some of the other features the LG ovens have are the EasyClean and UltraHeat. The EasyClean allows you to clean their ovens in only 10 minutes, and the UltraHeat burners optimize the flame angle inside the oven, allowing heating power to be concentrated on the target area more effectively cutting stovetop cooking time by 20-30%.
Recipe via How to Cook That courtesy of LG. Photos & video: courtesy of LG
Post by Katja Presnal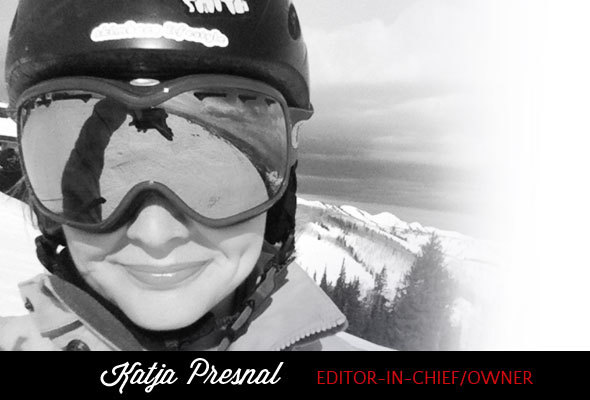 "My mission is to inspire you to live life to the fullest and find your own "skimbaco," how you enjoy life where ever you are in the moment. For ideas for travel, home, food and fashion,
subscribe to weekly Skimbaco Lifestyle
feed on Mondays and
I hope you get my newsletter
that I send out sometimes on Fridays."
Katja Presnal
, editor-in-chief and the owner of Skimbaco Lifestyle.
Visit Skimbaco Lifestyle (Skimbacolifestyle.com)'s profile on Pinterest.