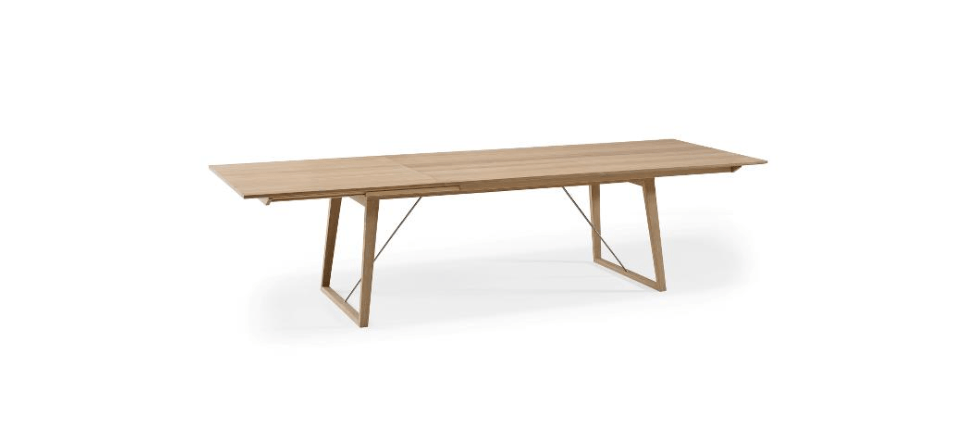 When it comes to Danish design, there has always been a few key elements; it is elegant, functional and timeless. Danish
Skovby
's furniture combines all these three elements, and brings in flexibility for modern day living. Skovby has been making furniture since 1933 and has grown from a small one-man workshop to a company selling their furniture around the world. While their production amounts have increased, their furniture is still today handcrafted and each piece is made of natural wood giving it it's own characteristic. Functional modern design, skilled craftsmanship and natural materials are the key elements to Skovby's design.
Skovby is famous for their dining room sets, and one of the best qualities is the flexibility of their dining tables. They are easy to turn from a romantic candle light dinner to a family dinner to a large gathering. See the pictures to get a better.. um, picture! Flexibility at it's best.
And when it comes to modern day living Skovby has a few more surprises. The cupboards, sideboards, hutches and china cabinets come in so many different shapes and forms making it easy for you to match it to your room. The china cabinets come with trays and drawers to accommodate your things.
But wait… there is more. I saved the best for the last. The Skovby TV and Hi-Fi cabinets come with smart technology they call Remote link. You can hide your electronics in the cabinet and the Remote Link transmits the signal from the remote control to nearly all infra red recipients like DVD, digital receivers, media centre, video and stereo equipment. You can just point your remote control to the Skovby logo, which is the Remote Link in the furniture, and you can control several different appliances. This is what I call modern design.