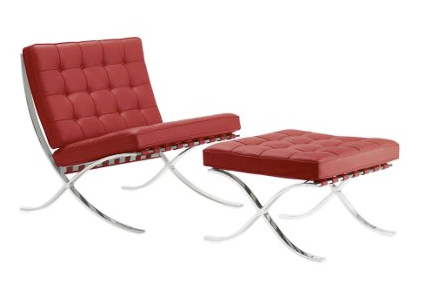 German-American architect Ludwig Mies van der Rohe designed the Barcelona Chair and Stool in 1929 for his German Pavilion at the International Exhibition in Barcelona. It became one of the key pieces in modern design, and it is still wildly popular. Mies van der Rohe designed the chairs for the king and queen of Spain, and the stool was meant for the attendants. The chair is still in production by Knoll and the real thing goes around $5,000.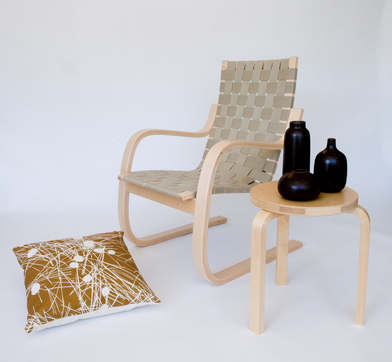 Finnish architect Alvar Aalto designed this cantilevered armchair for the Paimio Sanitarium in 1938-39. I need to write more about the Paimio Sanitarium in a later post; I happen to be from Paimio, and I just heard they are closing down the Alvar Aalto's famous Sanitarium, and I may have to go back home to demonstrate or something to prevent that from happening. But back to the chair… This chair is called the Pension Chair, even though Alvar Aalto designed it as the 406 Armchair. The 406 armchair is modeled after a similar type of chair made entirely of plywood – this one has woven cotton interlaced webbing as the seat and back making it more comfortable than the plywood version. The chair is still in production by Finnish Artek and available in several stores in the US for around $1,600.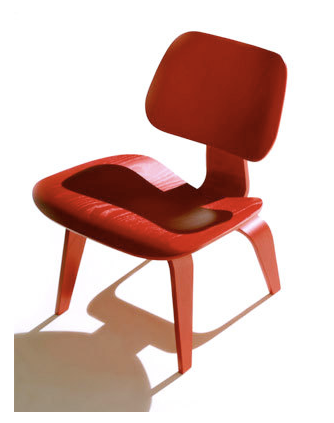 The
Eames Lounge Chair Wood
was designed by husband and wife team Charles and Ray Eames, in 1946 for the Herman Miller furniture company. The Eames Plywood Lounge Chair is probably the most famous of all of the designer chairs of the last century. It is designed with the real portions of human body in mind and the way the plywood is molded in the chair was a break through of the time. The chair has since been in production in several different materials and colors and is still today in production and available for $679.00 – $1,229.00 depending on the material and finish. There is also a version of this same chair with metal legs and both versions are also copied by several companies and you can find a good quality shameless knock-offs for around 400 dollars, and then shameless copies even under 200 dollars.
The
Risom Chair
was designed by Danish Jens Risom in 1941. It reminds of the Alvar Aalto's Lounge Chair from Artek, but Risom chair is great for smaller spaces like bedroom or hallway. Knoll still manufactures the chair, and it's available in different colors for $770.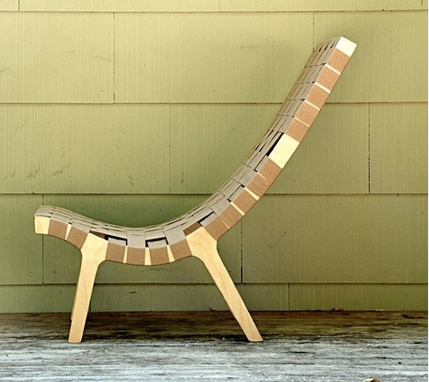 And then there is
Michael Arras
who graduated from the Oregon College of Art & Craft in 2007 with a Bachelor of Fine Arts degree and started designing furniture from his home and sells it at Etsy. He took all this inspiration and started offering modern designer furniture that people can actually afford. Arras designed this Birch Plywoood Lounge Chair and sells it on Etsy for $499. I'm sure we will hear more of Michael Arras in the future.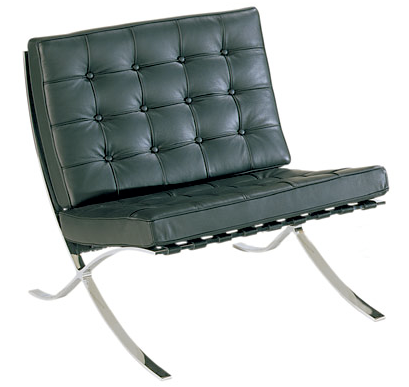 And now a few knock-offs and designer chair inspired products… Regency Shop is a fabulous place to find copy cat products and reproduction items. Like this
Ibiza chair
on sale for $345 – Barcelona – Ibiza, who cares, right?
Like mentioned, the most inexpensive knock-offs can be found at Target and IKEA, the Poäng chair is $89 at IKEA.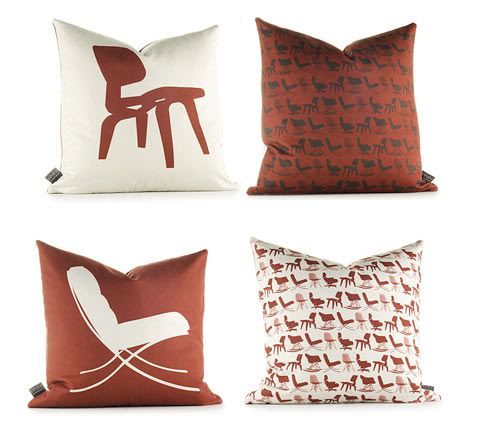 Inhabit Living offers the whole history of chairs – in pillows. The
chair pillows
are $60 and come in different styles and colors. Great Holiday gift idea for anyone who likes modern design. Added bonus is that the pillow are eco-friendly – the pillows are made from 100% sustainable recycled polyester and handprinted and handmade in the USA with environmentally-friendly inks with no chemical waste or disposal generated.
I think this chair mobile by
Salty and Sweet
($30) would make a great gift for any modern design lover. In fact, this is how I'd like to decorate even for Christmas – with beautiful chairs. I wonder if I could find some chair ornaments too…?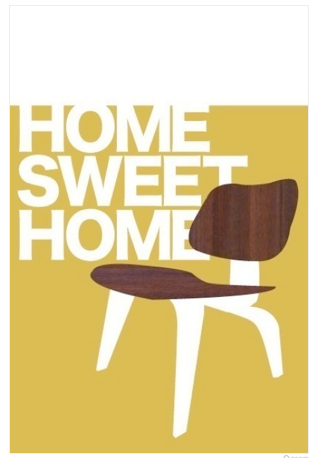 And just a little reminder on the wall – JennSki makes great prints of her original work for only $29. Frame it and keep on dreaming of buying the real thing one of of these days.
Everyone can have a piece of modern design history in a form of a chair. Ok, maybe not, but at least a product inspired by a designer chair. I wish I didn't have to shop for knock-offs and designer inspired products, but original designs are not in my budget right now. When it comes to design, and especially to Scandinavian design, there are two places that are more shameless than others – IKEA and Target – you can find knock-offs of several famous designer furniture in both of the stores. Here is some history of a few of the most famous chairs from the past – and some products that are in everyone's budget that remind us of the real thing.